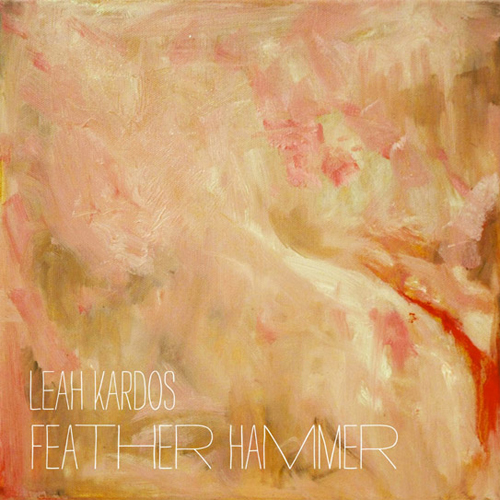 I've been meaning to tell you about Leah Kardos for a while now. Ever since I heard Feather Hammer for the first time, I knew that I'd fall in love with that album. And I wasn't wrong. Before I go into details of this review, let me skip ahead and do some name dropping to set the tone. You will absolutely adore Leah's sound if you love the glitchy piano compositions from the likes of Ametsub, Nils Frahm & Anne Müller, Francesco Tristano, and Aria Rostami. Yes… it's that beautiful acoustic piano sound, with just enough reverb, a selection of hand-picked effects, sparse electronica and head nodding beats. Scratched strings, muffled hammers, and even the slamming lid are all used to create a kaleidoscope of sound, that sparsely floats in the air, and then settles in a perfectly designed pattern.
Dedicated to Leah's mother, and her childhood piano teachers (Bevan Crabtree and Dorothy McCormack), Feather Hammer is an album that I wish I made. And that's pretty much the highest praise I can give to any album. Period. Marrying sounds of melancholia and evenly paced rhythm, the instrument sings beneath the fingers of this Australian-born, and now Bedford-based (England) composer. Yet this acomplishment does not come easily for Kardos. Perhaps she waited just the right amount of time before entering the music scene. After getting her Bachelors of Music at the University of Queensland, Kardos went on to win the Gold Coast Composition Competition two years in a row. Currently focused on getting her PhD in Music Composition, she is researching music and technology, as is clearly demonstrated in her music. The process of learning is echoed in a flashback to an educational video, sampled on one of my favorite tracks on the album, "DFACE". Here's Leah on the process:
"Approaching this piece the primary aim is creating interesting textures and playing with the proximity of those sounds. A secondary aim is to recall the feeling of early piano lessons and repetitive practice routines, pattern based technical exercises, the warmth of harmonies built from 3rds. After recording the various patterns using a variety of mic types and positions, I used Logic's space designer, delay designer, some FabFilters, in addition to scissors, stretch and flex-time to manipulate the material. Each 'part' to the arrangement is a unique pattern that repeats, so my starting point was this thick texture of all of the looped up cycles working at the same time. The arrangement you hear [on the track] is the result of 'carving' into that cyclic material, editing, erasing and eliminating certain bits to create some sense of form. This way of working reminds me of a method my artist friend Kristian Purcell often describes to me, of applying thick layers of media and then carefully stripping it away to reveal the piece."
More fascinating quotes, as well as commentary on the recording process can be found on leahkardos.com. I spent a few hours catching up to Leah's musings and reflections on composition and production (my favorite is "This record is burning a hole in my brain at the moment…"). It's interesting to read Leah quote her favorite composers such as Ravel, Shostakovich, and Gavin Bryars, and then refer to Brian Eno, Aphex Twin, and Amon Tobin as pop artists for her inspiration. In the same vein, Leah describes Feather Hammer as an "ambient piano record". I do not dare to argue with the composer's categorization, but I can't wait to introduce her to so many other works that are similar in style! For example, the track "Repeater", is one of the most delicious glitch pieces I have heard to date! "Dura Matter" is a darker cinematic hauntology piece, definitely suited for a film (which I have no doubt Leah will eventually score!), while "Remnant 2" is a grandiose rhythm driven dance piece, that would get Hauschka all excited!
OK, so did I mention that I absolutely love this album? Thankfully I'm not alone, and Kardos is getting that message. Personally I think she will go far, and I'm inviting you to jump on board of this ship before it takes off! Bigo & Twigetti is doing a great job at getting the word out so it's just a matter of time until other labels start to salivate (hint hint Erased Tapes or FatCat's 130701 imprint). While you're browing the label's catalog, I recommend you check out the rest of the roster, including Jim Perkins, Microseq and Sanmi.
Be sure to check out our Interview with Leah Kardos