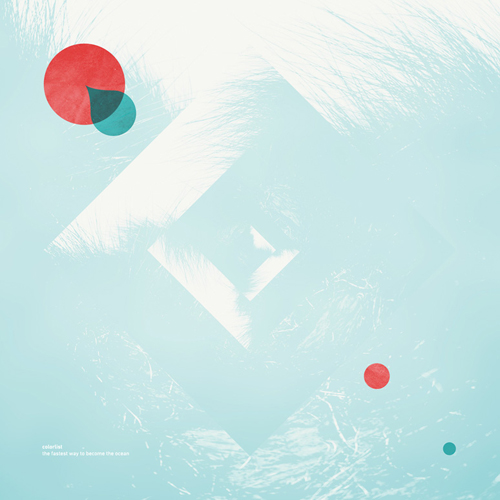 For the first entry in the label's Seasons 2011 series, Huw Roberts of Serein invites a Chicago based crossover jazz duo, Charles Rumback and Charles Gorczynski, to contribute a four-track EP as Colorlist. Recorded by John Hughes (aka Slicker and owner of Hefty Records) and Joshua Eustis (one half of Telefon Tel Aviv), the duo brings a few collaborators for The Fastest Way To Become The Ocean: the prolific Jeff Parker (Tricolor, Exploding Star Orchestra and Tortoise) plays guitar on "Nine Lives", while Liz Payne (aka The Zoo Wheel) sings and plays melodica on "What We Have Left".
The EP opens up with a laid back spring-day "Light Conditions" of soft rolling and sweeping drums, chirping birds with woodwinds, and vibrant harmonium chords. At the center of the EP is a ten minute track titled "Nine Lives", teasing the listener with a similar nonchalant sax arpeggio before Jeff Parker sneaks in with electric guitar improvisations, the drums guiding the pace of the piece into a building tension, refusing to break, until the awaited anticipation is resolved near the end. Th EP concludes with a track featuring the lovely voice of Liz Payne, featuring light undertones and a bit of South American slant, traversing the notes in the harmonics in unison with the saxophone.
I'll be honest, I didn't expect to hear any jazzy motifs on Serein, but I'm glad that I did. After listening to The Fastest Way To Become The Ocean, I take a detour to check out Colorlist's Lists (Off, 2008) and A Square White Lie (482 Music, 2010) before the next entry in the Seasons. This is a really nice opening in Serein's series of limited edition 10″ vinyl releases, and a great opening for our Serein Label Special on Headphone Commute.