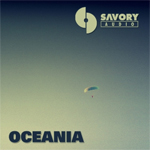 The intarwebs are full of wonders. Thanks to the interlinked musical genius of Soundcloud, I can browse the latest unknown releases, and bathe in the sound of the underground. Here's a deep rolling bass release from Savory Audio a digital dubstep label out of Pittsburgh, Pennsylvania, running a few local events and steadily releasing some inspirational tunes, breaking through the genre bounding rules of dubstep. This track comes from a Russian producer going by the name Oceania. I can't find anything else on this artist at the moment, but the music speaks for itself…
Kevin (from the comments below) has pointed me over to Oceania's profile on Monkey Dub where there is a little more info about the artist behind this track:
Nick Kostylew aka Oceania lives in the quiet green town of Zelenograd near Moscow. He first tried to produce music in 2006, recording guitar parties and then composing them with drums. Nevertheless, that sad experience gave a way to his furter experiments with sound. In 2009 he ran into dubstep and so on …
For more Oceania sound, be sure to visit his tunes on Soundcloud….