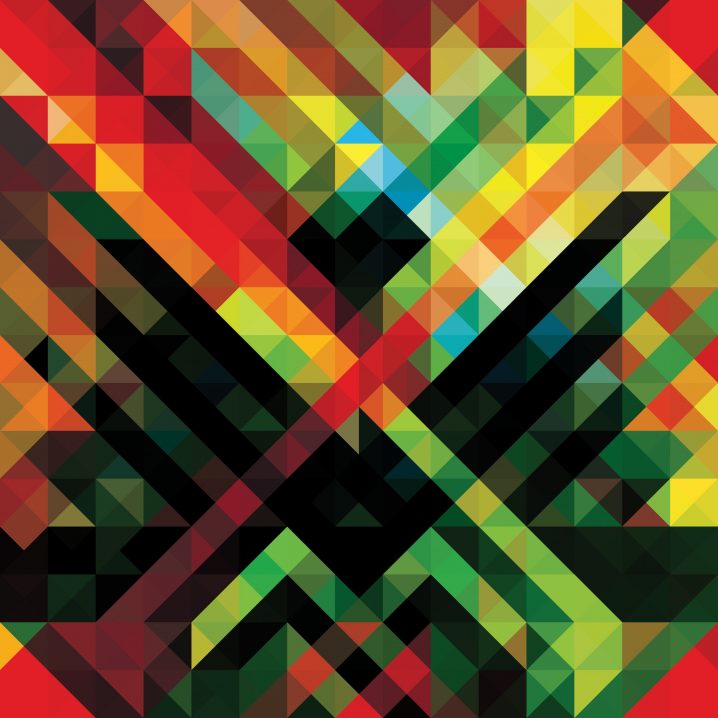 Mark Pritchard rarely disappoints. Whether it's through his now classic Global Communication collaboration with Tom Middleton (which, by the way, has recently re-united, with scheduled upcoming releases, DJ sets, and tour dates), or his work with Dave Brinkworth on cinematic, spacey, trip-hoppy Harmonic 33, Pritchard never ceases to re-invent himself and his sound through the latest twists and turns of electronic music. In 2009, Pritchard went solo and released an amazing instrumental hip-hop, slash dubstep, slash 8-bit glitch-hop album When Machines Exceed Human Intelligence on Warp as Harmonic 313. There were even a few 12-inchers under his real name on Ho Hum, Deep Medi and even Hyperdub, which suggested that Pritchard is going even further into the dubstep territory. But it is his work with Steve White as Africa Hi-Tech that is the most impressive leap into uncharted territories of sound.
So who is his partner in crime? Steve White, recording under his Supadread, Black Pocket, and most popular Steve Spacek alias has previously contributed vocals to Commix's Call To Mind (Metalheadz, 2007), and released Vintage Hi-Tech album on Studio !K7 in 2003 with his Spacek trio (including Morgan Zarate and Edmund Cavill), but it his 2010 release on Exit Records, titled Steve Spacek Presents Black Pocket The Album, that must have intrigued Pritchard to join forces on further exploration of breaks, beats, and rhythms. In 2007, the duo has released a 12″, Turn It On on Sonar Kollektiv under Mark Pritchard & Steve Spacek name. And since then, they must have been thinking about the 'next big thing'.
Well, enough name dropping and artist history. That 'next big thing' is here! The title, 93 Million Miles, refers to the distance between the Sun and our planet Earth, and with its hint on planetary travel, futuristic space exploration, and its accompanying sound track, the duo breaks out, skips and slides across many barely recognizable styles. Whether it's grime, UK funky, jazz-step, Carribian dub, or Chicago's juke music, Africa HiTech invents a world in the past, in which currently dominating super-powers collapsed, and the poorest continent rose to power. Perhaps if things worked out that way, this would be the music of today's African electronic music scene. After all, most of the elements are rooted there anyway. Perhaps things are exactly they way they're supposed to be…
Out in the Streets 12″ (VIP) Sampler

Prior to the release, Africa HiTech has teased us with a few EPs: Blen, Hitecherous, and finally a single from the album Out In The Streets (VIP). It is the latter that has turned heads, with its looping sample from Ini Kamoze's "World A Reggae", and infectious jungle beat. The same named track on the album (minus the "VIP") has a completely different, yet equally addictive rhythm of concrete jungle. With a nod towards Sun Ra's influence, and a sample from Sun Ra Disco 3000 "The Sky is a Sea of Darkness When There is no Sun", the album pokes its head into dancehall, and then just as quickly takes a time warp trip into a soundtrack for footwork, with its jittery, sample triggered, stumbling beat.
Radiohead – Bloom (Mark Pritchard RMX)

If you're getting a little bit bored with the overwhelming onslaught of dubstep, monotonous bass and familiar drops, or curious if Chicago's juke or Detroit's jit music will ever evolve into something more than just a frantic, lo-tech sampled, cluster of staggering confetti, check out this extremely well produced album from one of the veterans in electronic music history. If you dig it, pick up the two above mentioned EPs, Blen and Hitecherous, and keep your eyes peeled for an upcoming 12″ on Planet Mu by Pritch & Trim titled Stereotype. Also, old skool fans would love to grab a double disk mixed compilation by Global Communication – Back In The Box. Welcome to another milestone in evolution of bass music. Now fasten your seat belts – we're about to take off…