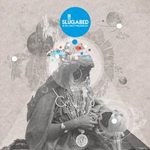 Listening to Slugabed for the first time brings back the memories of hearing the complexity of Squarepusher or the insanity of Venetian Snares who, incidentally, released his sweet venom on Planet Mu as well. But the music of this 19 year old, Bath (UK) based producer, Greg Feldwick, is not the broken rhythms of breakcore or drill'n'bass. It is a slow-paced wobble through the square edged 8-bit world of two-dimensional cardboard trees and bass-growling monsters. At times comical and playful, at times nasty and evil, the sound of Slugabed doesn't commit to classification – instead it begs for a genre of its own.
Going back to my mentioning of the complexity of sound with which I was struck upon the first listening of Feldwick's six-track EP, the thick layers of sound and fractured beats take the listeners' time to fully unwrap and appreciate. The sluggish rhythm trolls through an alley of bit-crushed chords, often changing direction of the syncopated step. Closer to the sound of Harmonic 313 then any other dub-step producer, the raw production re-wires the bleeps and lasers of arcade-boxes and turns them into dance tracks that skipped the 80s to time travel to 2010. And if you listen closely, you will hear that behind the sharp and distorted hard-panned sounds, hide the beautiful melodies, as sung from the land of The Uglydolls.
Slugabed's debut 12″, Gritsalt, appeared in May of 2009 on Ramp Recordings. That summer, he followed it with a split with Coco Bryce, titled MYOR 02 on a brand new Dutch MYOR label. Another 12″, Superphreak, appeared on Stuffrecords. And finally, Slugabed got picked up by the beloved Planet Mu. Welcome. This is your new home. Now get comfortable and bring us a full-length.
See also Two and a Half Questions with Slugabed

myspace.com/slugabedmusic | planet.mu