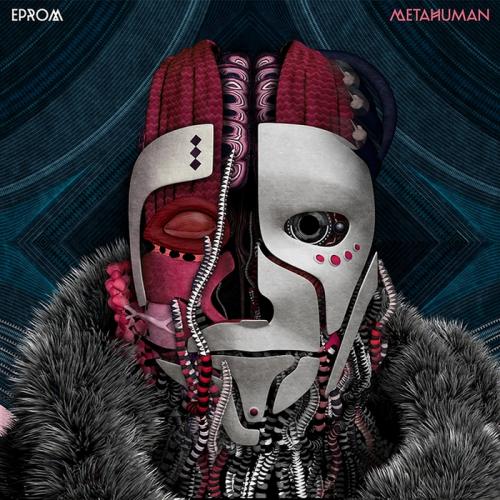 Razor-sharp 8-bit music has never sounded this good. San-Francisco based Alexander Dennis fuses laser tweaks, saw-tooth bass drops, and head nodding dub-influenced hip-hop beats to create a factory setting, where robots assemble humans. The thirteen tracks on Metahuman rumble, sway and thump, breathing in vapor and breathing out acid, stepping with the rhythm on metallic platforms, leaving the empty space untouched. It is in this empty void where I find myself hanging, grasping for familiar sounds, in hopes to keep up. Ah, there is a vocal sample which will keep me grounded in concept. There's a dubstep-like grind that I must have heard before. Nope, my brief hold is gone, the music mutating, space shifting like a holographic image, existing only in my mind. Stylistically speaking, Metahuman remains unclassifiable. But instead of borrowing from a range of genres, it somehow manages to create one of its own.
The minimalism on the album is actually incredible. The structure of each track is always intact, yet the laid-back and stripped-down instrumentation is always on queue with each precise note. Even when a piece completely deconstructs into seemingly out-of-place drops of disintegrating sounds, the liquid bubbling of oozing venom keeps up with the rhythm. I am particularly fascinated with a track titled "Can Control", which walks a synth tom down the scale of abyss into a sparsely populated beat of dense drops, shaken spray cans, at a very slow tempo. The eerie atmosphere built up by this hideous monster haunts me even now, after the malicious anxiety is gone. This track is so gangsta, even the dust in the corners of my room has gathered into small balls of frightened matter.
Hip hop and electronic music are colliding in an exciting sonic apocalypse, and Eprom is a master of this slower yet very danceable style that has caught the ears, hearts and feet of a whole new generation of beat lovers. His sound combines a laid-back lean with forward-moving energy, reflecting the feeling of the Left Coast and resulting in a rare breed of experimental music- one that puts the dance floor first.
Metahuman is Eprom's debut full-length on Rwina Records. His first 64 Bytes EP appeared on Addictech in 2007, which he followed by many 12″ on labels like Bad Acid, Surefire Sound, Leisure System and even Warp. Dennis' live shows and remixes in collaboration with Glitch Mob's Boreta as Nasty Ways have already earned him a well deserved reputation on the West Coast. Fans of Slugabed, Heyoka, and Vibesequad, as well as Lorn, Machinedrum, and Africa Hi-Tech will want to check out Eprom's live performance at the Seattle's Decibel Festival, where Dennis will play at Pioneers of Rhythm presented by Abstract Earth Project alongside DJ Shadow (DJ set), Bonobo (DJ set) and Zach Walker, as well as at dB and Surefire Boat Party with Starkey, Glinz, B. Bravo, Danny Corn and Tyler Tastemaker. If you're coming, I will see you there!
Be sure to also read Interview with Eprom