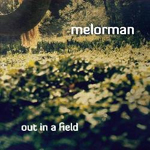 Before I dive into this melodic and emotional IDM album, I want to talk about the label. Symbolic Interaction is an independent label run by Kentaro Togawa out of his hometown, outside of Tokyo, Japan. Togawa started the label in 2007, and in the last three years released about twenty five albums (Out In A Field is cataloged at SIC024). I first came across the label upon hearing Rudi Arapahoe – Echoes From One To Another (2008). The following release was by my all time favorite glitch masters, Funckarma – Psar Dymog (2008), and then Ard Bit's – Spanon (2009) shook me a bit off balance. So, it's no wonder that I'm keeping my tabs on Symbolic Interaction.
Now on to Melorman. Antonis Haniotakis is an Athens (Greece) based electronic music producer with smooth undertones and clicky downtempo beats, who previously released digital EPs on netlabels, such as Summer Rain Recordings, IVDT, and Archaic Horizon. Thus, Out In A Field is Haniotakis' first physical release. His sound is a combination of silky synth lines, hazy soundscapes, and relaxed intelligent percussion. His music is reminiscent of laid back sounds of Boards of Canada, Tycho and Arovane. Hmmm. That should get you excited. Words like 'atmospheric', 'melancholic' and 'cinematic' are begging to find their way into this review, but the music of Out In A Field speaks louder than my words.
Personally, I miss music like this. Emotional electronica can not exist without the music that evokes emotion. And on Out In A Field, Haniotakis does just that. Painting a relaxing atmosphere of summer car rides, hammock swings, and morning walks, perhaps somewhere out in a field, with a touch of vocal contributions from Helen Day, Melorman evokes those melodramatic melodies that mellow all the melancholy thoughts away. If you like this sort of sound, be sure to pick up a three-track free digital EP, Expressing Thougths, out on Archaic Horizon. And don't forget to check out Symbolic Interaction's latest release from Melodium, titled Palimpse.
See also Two and a Half Questions with Melorman
melorman.com | myspace.com/melorman
symbolicinteraction.net | myspace.com/symbolicinteraction