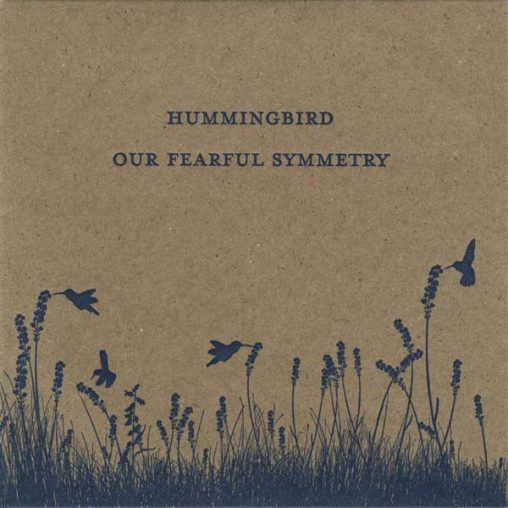 Spending three-quarters of an hour with Hummingbird is like sinking into a couch in a company of an old friend. All ego-driven thoughts, all roles, and all façades just disappear. And all you're left with is just yourself, and the soothing sounds of the Hummingbird. Distant bells, lightly touched piano keys, and reverb drenched pads swirl around the room, like a scent of a cinnamon candle blending with the hot apple cider in my hands. And suddenly all becomes one… as the Seeds of Deception are prepared once more to be sowed in your Garden Of Secrets…
It is difficult to obtain factual information on the mysterious artist hiding behind the moniker of Humminbird (although we gather that it's an alias of someone we know very well). And it's even more difficult to recommended this album to a new listener, since it was limited to only one hundred physical copies, each packaged in a handmade, letter-pressed sleeve, with an original photographic Polaroid slide from the 40s. And since this release will not be available digitally (unless we convince the folks of Fluid Audio otherwise), it's almost impossible to promote one of the most beloved albums up to date. But yet, here we are, sharing with you the words on one of our favorites of the year!
Hummingbird treads carefully on the line of fact and fiction, creating a solace of sound by both live instrumentation and automated means. "Our Fearful Symmetry" reveals beautiful and thought-provoking music, dizzying and imaginative in detail which will impart a self-conscious resonance into any listener. Listeners drawn to the mysterious nature of the project will soon find themselves rewarded with a cohesive journey through 11 tracks that reward repeated visits, with rich reverbed soundscapes that are both familiar and distant.
With measured melodies, precise phrasing, and carefully selected choice of modern classical instrumentation, such as cello, field recordings, and ghostly sounds, the artist behind Hummingbird may hide, but his sounds will not distract my ear… Could it be Rudi Arapahoe, who in 2008 completely took us by surprise with his gorgeous Echoes From One To Another? Perhaps after reaching critical acclaim through his release on a Japanese Symbolic Interaction, the elusive Arapahoe found a new home. Or is it Emmanuel Errante who last released Humus (Somnia, 2008) followed by Gouache (Laverna, 2010)? I don't think it's Clem Leek, whose recent album Holly Lane (Hibernate, 2010) deserves a separate review on these pages.
I suppose that your guess is as good as mine. But why focus on the name, when the music is all that we need to share here? After all, the best things are left to mystery… Instead, I recommend that you pick up similar releases on Fluid Audio from Field Rotation, The Moving Dawn Orchestra, Maps And Diagrams and the latest from Hessien. And make sure to keep your eye on the label, as the newest limited releases sell out fast! Recommended for the likes of Max Richter, Library Tapes, Peter Broderick, Machinefabriek, and Danny Norbury.
Read also our Two and a Half Questions with Hummingbird