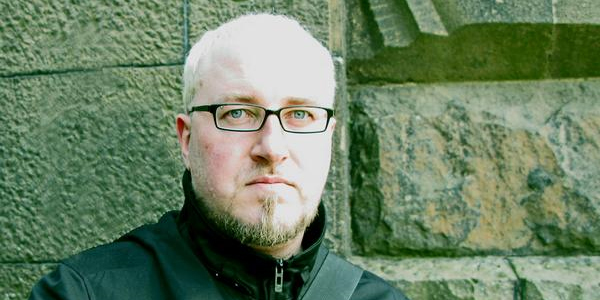 Five albums into the Architect project, what has changed since its original inception well over a decade ago?
Actually not a lot. I am older, which is the obvious:) But its still me creating the Music. Trying to push my musical Direction with no Limits.
Consume Adapt Create is a record which functions on many levels. What were the concepts you were going for this time, and did they evolve consciously on your behalf?
I just tried to get rid of all my Ideas. I buy a lot of Music, I am really an addict and most of Music I am buying inspires me, challenges me. So I tried to create something, that I can listen to myself. That I might can spin on my DJ Gigs. I tried to push myself to create something new for myself.
The field of "idm/electronica" has become quite bloated in the last five years. How much would you say your production and design elements contribute to your success? What makes you stand out among the many as the Architect?
Hmmm, I am not quite sure, if I stand out at all. Of course, I think I am special, ahaha. But for real. With Architect there are no limits. On Consume Adapt Create you hear a lot of different styles and influences. But the thing is, you cant really tell, oh, this is dubstep, this is drum&bass. There is always another layer to it, I think.
Here's the question which has been on my mind since you were picked to go on tour with Recoil. Have you two done anything collaboratively and what's it been like hanging around PK?
I am working on a remix for Recoil. But for Months now. Its really hard and really frustrating. Because I have very high expectations. I started like 7 times already, because I am never happy. PK is the coolest dude on earth;) I listened to  some of his unreleased material and its fantastic. I worked with the stuff a little. So maybe on this U.S. Tour we can discuss "our" future:)
You have also worked with Ben Lukas Boysen in the past. Are there any plans on continuous collaboration with Hecq or Klima?
Definitely with Ben. He is my little Sound Hero! Klima works best on his own. But we never know.
There have been some talks about a remix for The Shadow of Eve. Can you shine more light on this rumor?
There is gonna come a Remix Album by the end of the Year. Watch out!!!
Finally, what are you working on right now?
Just finished a Coverversion of Tobias Lilja for N5MD Cover Album with other artists contributing remixes. And I am back on the Recoil Remix now. Also more Haujobb and Architect is coming soon!!
– – – – – – – – – – – – – – – – – – – – – – – – – – – – – – – – – – – – – – – – – – – – – – – – –
Interview prepared by Peter Marks, exclusively for Headphone Commute.
See also review of Consume Adapt Create