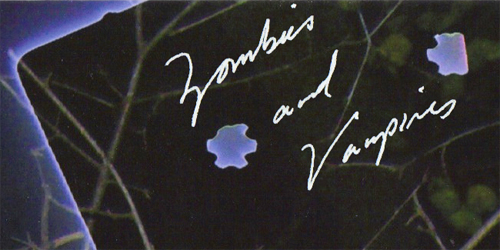 After his previous appearance on Headphone Commute with an excellent modern classical mix, Later, Cole Pierce returns with a grab-bag of soothing summer tunes that cut through the heat, your ears, and your heart. Just like the last time, this mix is actually in two parts: Zombies and Vampires, presented here in one piece for your enjoyment. Expect the unexpected, smolder and rejoice!
The first part of this mix compares contemporary IDM to 60's soul and psychedelic music. The pace is downtempo and the styles range from straightforward smooth pop to abstract, textured electronic. I included some found samples and a recording of my son singing about zombies to frame this music in a way that compares it to a b-movie idea of zombies. A dark undertone, but overall lighthearted and upbeat. I especially like comparing the zombie theme to the Order of Golden Dawn, and then to the Fringe sample "… because human memory is best triggered when undergoing mundane tasks". When my friends would ask what kind of mix I was making, I'd tell them it was groovy. This is only significant if you are familiar with the ambient mixes I usually make.

Side B is upbeat, largely influenced by Caribou's latest album as well a DJ Bylamplight compilation of obscure garage/R&B hits. I have also been listening to Can after years of hearing their name dropped in music reviews. In the first 30 minutes of Side B, the mix transitions seamlessly through music from 5 different decades. After the Clutchy Hopkins track, the mix returns to themes in Side A with jj's Lil' Wayne cover, some Deru beats, "A vampire is nothing but a monster", and finally an introspective monologue from Dexter, about what it means to be alive and be human.

(Cover art by Ryan Fenchel and Cole Pierce.)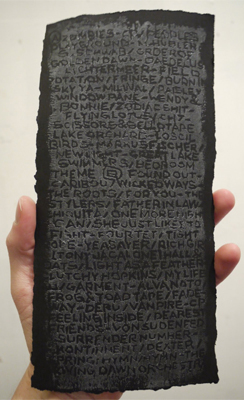 Vampires and Zombies was originally produced in a unique edition of 80 CDs, linoleum print on 100% cotton paper and distributed to Cole Pierce's mix CD mailing list in June of 2010. The ongoing multiples project (since 2004) consists of mixed CDs produced and mailed about twice a year.
colepierce.com
prestosamo.blogspot.com



[ S T R E A M ] | [ D O W N L O A D ] | [ P O D C A S T ]
Track Listing:
[— Side A : Zombies —]
Cole Pierce – Zombies
M. Hubler & S. Schwab Peoples Playground
Daedelus – Order Of Golden Dawn
Field Rotation – Lichtermeer
Fringe – Unknown
Milinal – Burn In Sky Ya
Wendy & Bonnie – Paisley Window Pane
Flying Lotus – Zodiac Shit
Michael Dresner On Pri The World – Zombies
Scissors & Sellotape – Chapter 7
Loscil – Lake Orchard
Markus Fischer – Birdseed
Great Lake Swimmers – New Light
Unknown – Bedroom Theme
[— Side B : Vampires —]
Caribou – Found Out
The Roots – Wicked Ways
The Stylers – For You
Chiquita – Father In Law
Can – One More Night
Four Tet – She Just Likes To Fight
Yeasayer – Tightrope
Hall & Oats – Rich Girl (Tony Jacalone Re-Edit)
Clutchy Hopkins – Light As A Feather
jj – My Life
Alva Noto – Garment
Ia Conservation Committee – Frog & Toad Tape
Deru – Fadeaway
Cole Pierce – Vampire
Unknown – Feeling Inside
Von Südenfed – Dearest Friends
Kontinnent – Surrende R Number
Dexter – Unknown
The Moving Dawn Orchestra – Spring: Hymn/Hymn
[ S T R E A M ] | [ D O W N L O A D ] | [ P O D C A S T ]