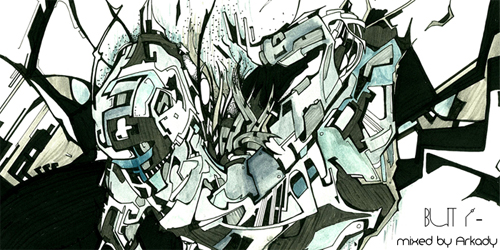 I'm pretty psyched up to get this mix out into your ears! This one has been in the making for quiet some time, and it is finally here! Get ready for some massive dark IDM, grinding dubstep and raging drum'n'bass, perfectly mixed up by Arkady! If you haven't heard this type of music before, then I'd be proud to introduce you to this style!!! I am a huge fan of the artists featured in this mix, which is why, when I found Arkady spinning these tracks, I've asked him to prepare a special mix just for Headphone Commute listeners! Here are some words from Arkady:
Hi Commuters,

After you offered to feature a mix of mine, my creative partner SHVLFCE and I began to consider how other elements could be pulled into the project beyond musical arrangement. After a few associations manifesting between some of our work, our friend Julian Van Zandweghe offered to pen a short science fiction story in line with the drive and musical narrative of the mix. SHVLFCE in turn interpreted the narrative in his unmistakable visual style.

While the three of us were at work, we shared only vague and incomplete impressions of our respective narratives with one another, though a skeletal plot revolving around a malfunctioning ship was common to all. Once we'd completed the project, it became evident that some striking synergies had developed between the three narrative means. It was a proper exercise.

The short story and integrated images are permanently hosted here and on our aesthetic collective's homepage at ItoIcontact.com

We feel the triptych should be experienced as the whole it's made itself to be, and we really enjoyed crafting this unreality for your listeners. We're all about transport, here.
So turn this up, and get ready to have your head blown off!!!

[ S T R E A M ] | [ D O W N L O A D ] | [ P O D C A S T ]
Track Listing:
1. Hecq – Steeltongued (Spyweirdos Remix) [Hymen]
2. Rockwell – Snare Drum Awareness [Digital Soundboy]
3. Jade – This is My World (Icicle Remix) [Citrus]
4. Alix Perez – I'm Free [Shogun]
5. Jubei – Alignment [Metalheadz]
6. Sabre – A Wandering Journal (Rockwell's Club Mix) [Critical]
7. Phace – Cold Champagne [Neosignal]
8. Dakosa – Hideout [Shadybrain]
9. Hybris – Macrophage (Sample) [Vampire]
10. Stray – Timbre [Critical]
11. Hecq – Howler (Edit) [Hymen]
12. Sabre – Follow Polaris (Club Mix) [Critical]
13. LV & Untold – Beacon [Hemlock]
14. Amon Tobin – Kitchen Sink (Noisia Remix) [Ninja Tune]
15. Amon Tobin – Hokkaido [Ninja Tune]
16. Sabre – Quarters feat. Noisia & Icicle [Critical]
17. Phace – CCTV feat. Noisia [Neosignal]
18. Noisia – Sunhammer feat. Amon Tobin (Extended DJ Edit) [Vision]
19. Dom & Roland – Odd Job [DRP]
20. Sabre – Javelin feat. Alix Perez [Critical]
21. Two Fingers – Subway Rhythm [Big Dada]
22. Spor – Claret's March [Lifted]
23. Spor – Kingdom [Lifted]
24. Maztek – Electric Rain (N. Phect Remix) (Sample) [Subculture]
25. Phace – You Keep on Talking [Neosignal]
26. N. Phect – Cascade [Syndrome]
27. D Bridge & Instra:mental – Detroid [Autonomic]
28. Phace – Zeitgeist [Shadow Law]
29. Martsman – Disharmonic Anti-Anthem [Offshore]
30. Dom & Roland – Jedi (Edit) [DRP]
31. Billain – Dopamine (Sample) [Citrus]
32. Distance – Fallen (Vex'd Remix) (Sample) [Planet Mu]
33. Dubchild – Take me (Boxcutter Remix) [Storming]
34. Amon Tobin – Ownage feat. Doubleclick (Edit) [Ninja Tune]
35. Sunchase – Pushing This [Drone]
36. Elemental – Sparkle (Boxcutter Remix) [Hot Flush]
37. Emika – Double Edge (Pinch Remix) [Ninja Tune]
38. Machine Code – Vessel [Combat]

[ S T R E A M ] | [ D O W N L O A D ] | [ P O D C A S T ]