On my true Headphone Commute between New York and Philadelphia, Spring rushes past the windows of a high-speed tilting train. With two hours of music, a laptop, and spotty Wi-Fi service, I can catch up to the latest compilations that have truly excited me about the latest evolution of sound. Here are three of my favorites, showcasing the unknown, yet amazing sounds, in glitch, IDM, drum'n'bass, tech-house and experimental beats. I hope that these words will inspire you enough to pick up these sounds. Enjoy…
Painting Pictures On Silence V1 (Enig'matik)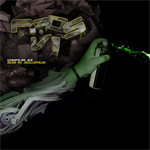 It's a new day. It's a new dawn. And the new world welcomes a new kid on its doorsteps. The demented stork got lost in the electric storm, its mind is a mush from the strobe filled sky, and its broken beak stutters in time with the glitching beat, as it tip-toes off the cliff and falls, head first, into the abyss. Sorry – the headspace of Painting Pictures On Silence V1 has distracted me from my main point. What was I saying? Oh yes, the world welcomes a new record label based in Byron Bay hinterland of Australia. Run and operated by Jake Rose, also known as Sun In Aquarius, the label hopes to focus on the experimental side of electronica, glitch and abstract IDM, splattering digital sound all over the sonic canvas for your pleasure and delight. As is the latest custom with new labels, an entry into the scene is marked with a compilation showcasing the upcoming roster of artists. In this instance, Enig'matik collects seventeen tracks from up-and-coming, forward-thinking laboratory scientists of audio fidelity and razor sharp production, showcasing the current output from Australia, New Zealand and UK. Painting Pictures On Silence V1 promises to be the first installment, in what we hope to be, a series of digital releases from Enig'matik, pushing the boundaries of electronic music production. The label pulls out all stops and delivers a punchy, crunchy, and at times raunchy, genre defying compilation, constructed somewhere by some robots on some planet e. At times technoid, at times bass heavy, at times musically melancholic, the droplets of sound land on my favorite slip mat and splatter in a kaleidoscopic frenzy. A DSP-rich tasty treat for all nostalgics and addicts to drukqs. The demented stork would be proud.
Painting Pictures on Silence (SoundCloud Set)

New Blood 011 (Med School)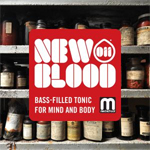 Last year, Headphone Commute lauded Med School's New Blood compilation showcasing the new sound of liquid drum'n'bass from around the world. It seems that there's plenty to add to this series, and the tracks reach out to a new height. New Blood 011, subtitled as a "bass filled tonic for mind and body" puts the left-field offshoot of Hospital Records back on the charts and our playlists. More fresh faces sprinkle the twelve-track play-list, cutting into the deep and low grooves with a scalpel precision of the med school's graduates – "it's a whole new blood group, fresh from dialysis". Ranging from bass driven fluid breaks, to broken half-time beats, to complex rhythms of a new millennia, and dubstep inspired rumbling monsters, each track on the compilation demonstrates the artist's ability to build up on a well known formula, and then tip its accepted stability off balance by introducing a heavy weight of their own. Once again, the continental span of Eastern Europe (Russia in particular) seems to shine with bright rays of music through its dark clouds of history. Perhaps suffering and misery culminate into something beautiful after all… Whatever the reason is behind this newly developed parasitic deconstruction, we welcome its evolution with an open ear. It is truly unique and incredibly beautiful, like an ugly doll in the hands of a sleeping child. Setting the bar pretty high with the 010's installment, Med Schools satisfies our expectations and returns with a slamming followup. What Warp did to electronica with the Artificial Intelligence in the early nineties, Med School is doing to d'n'b with the New Blood today. Well done, boys.
New Blood 011 Minimix

Era One (Thoughtless)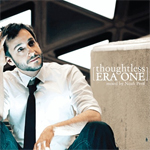 Toronto based Thoughtless Music, celebrates its 50th release over four years with the end of the first era, in this 73-minute mix, titled Era One. Collected and mixed by the label owner and curator, Noah Pred, the journey traverses over 50 tracks, marking the selection as the first "inaugural installment [in] the culmination […] of thoughtlessness". Pred lays down a continuous mix full of highs and lows, abstract sounds and beats, pounding away at your mind with a quality controlled production. Minimal and tech-house rhythms are neatly folded and unwrapped to reveal a sonic landscape capable to separate the frequency space even among the muddiest of the noises. Every little sound feels EQd to live in its own head space, propelling the label into a category of production houses concerned with quality over quantity. When the price of a good or service is marked by a simple supply vs. demand curve, and when the supply in this digital age of such output may seem unlimited, Thoughtless Music skids on the limits of this formula, where the result just doesn't make sense, and you still want to pay for the music. "Showcasing a wide variety of sounds within the parameters of modern techno and house music, the mix builds from deep excursions to peak-time jams and back again, weaving a fluid tale that stands as both a testament to the Thoughtless sound and a statement of things to come…" Weaving in 50 tracks, overlaying on top of each other in three channels, is no easy task, showcasing the label's three year output of over 300 individual tracks is another. Faced with one of the most difficult dilemmas of distilling your catalog to a fraction of your favorites, Pred appears to seamlessly roll over the task with this gorgeous, mind bending mix.
Era One Compilation Teaser