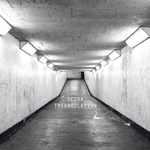 It begins with Descent. A slow, quiet, and eerie slide of minor chords into a track that kicks off the album, followed by Latch, a light syncopated beat with rolling bass, organic strings, and ghostly vocals. Scuba's latest release, Triangulation, is more than a collection of tracks – a few have previously appeared as 12″ EPs – it's an intelligent headphone experience of lush atmospheres and dub influenced environments. The tracks evolve and carry forward their themes, blending from one to another, locking your mind into the hypnotic rhythms of Scuba's staple sound.
Let's rewind a bit to 2003. This is the year when Paul Rose founded the now famous Hotflush Recordings. On it he released about a dozen of 12″ under his Scuba alias (see Catalog numbers with SCUBA prefix), as well as his first full length, A Mutual Antipathy (Hotflush, 2008). And I'm not even counting a few 12-inchers on Abucs (Scuba spelled backwards), a sublabel of Hotflush. Triangulation is Rose's second full-length release that breaches a classification of genres, which I would almost classify as ambient two-step meeting minimal techno in the abandoned tunnel of dub. On the title of the album, Rose hints at the blend of genres:
"It's basically the three central musical ideas of house/techno, dubstep and this weird drum 'n bass stuff. These were the three inputs, if you like."
And that's not a surprise. Having lived and performed in Germany as of late (Rose runs a monthly event at Berlin's Berghain), the sound of minimalism has clearly crept up into his production. That includes a few four-to-the-floor stomping tracks in the spirit of Berlin's sound, as well as crystal clear and tight production wrapped around the low frequencies of rumbling bass.
If you're only waking up to dubstep, it's time for you to whip out your wallet and add a few albums from the label's catalog. The highlights of the label's roster include Pangaea, Untold, TRG, Boxcutter, and Sigha. Oh, and don't forget to check out out Joy Orbison and Mount Kimbie! Be sure to also check out the label's Podcast, for which you can subscribe to on iTunes