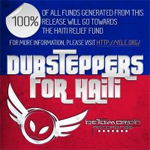 On January 12, 2010, a 7.0 magnitude earthquake shook Haiti and devastated the country, with death toll rising over 150,000. Humanitarian efforts quickly took place, to aid on site, and to raise money through charities to help with the relief effort. Betamorph Records has partnered with AmeriCares Disaster Relief and Humanitarian Aid Organization to raise money through a multi-volume compilation release, Dubsteppers For Haiti.
For this compilation, which, as of this writing, is in its third volume, various artists came together to contribute a track. With 100% of all proceeds donated directly to AmeriCares, each dollar will be able to deliver $35 in goods and services.
"In only five days, sales of 'Dubsteppers for Haiti: Volume One' have already totaled just under $1000 from Digital Tunes and Juno alone, which means that AmeriCares will be able to provide close to $35,000 in aid to the people who need it most. These two retailers are the first choice to purchase the compilation from, as they release the proceeds every month. This means that the result of Dubsteppers for Haiti's efforts will come to fruition in visible aid as soon as 1st February. The compilation will also be released on more widespread sites such as Beatport and iTunes in the next week or so to reach a wider audience."
On Volume One, Betamorph Records compiled 30 tracks from The Widdler, Zeno, Dubheadz, SymbL, Claw, Robbing Hood, Sinjin, ABZ, Jason C & Metaphase, Mind, Ceeker, Bleed, Chi, 0045 & TDBZ, Bokator, VooDoo Steamboat, Baron Rogue, Mr. Curtamos, Chewie, KzA, Korea, Flexie, Seed Art Ha, RumbleJunkie, S.I.E., Kalbr, and Metaphase. Some of the above artists may only have had a few digital releases on some net-labels, and be labeled as up-and-comers in the underground scene of dubstep. But don't judge the roster by the names – hear the music, think of the message, and participate in the cause. Whether the sound is of high production caliber or not – the money that will help the suffering is real. And you can be  part of this as well.
"Respect to all of human kind. We are making a difference, no matter the nay sayers… Making a difference, One Dub at a Time"
Buy from Digital-Tunes or Juno Download or Addictech