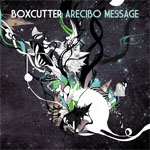 As I queue up the latest release from Planet Mu, the long awaited Variance by Jega, I realize that I never got the chance to tell you about one of my favorite albums of the year so far, Arecibo Message by none other than Barry Lynn. Meanwhile, I've spun these glitch influenced, dirty, acid, and deep dubstep beats over a dozen times. This Northern Ireland musician continues to impress me with his advanced production skills, unlimited bag of tricks, and intelligent tracks that retain their value throughout the years. I say that, because Oneiric (Planet Mu, 2006) and Glyphic (Planet Mu, 2007) still show up in my rotations on a regular basis.
For his third full length album under Boxcutter, Lynn takes his production even further. Although still relying on dubstep structure, the elements of acid house, jazz, garage, and of course, IDM, are incorporated deeper into the music. Even vocals made it on to the album with a slightly poppy track, A Familiar Sound. The bass is always in the spotlight, sounding more analogue than before, living in its own frequency space around the painstakingly effected beats and individual elements prickling the neurons of your constantly wandering mind.
The album title, Arecibo Message, refers to a message beamed into outer space via FM radio waves during a ceremony celebrating a remodeling of the radio telescope, located in Arecibo, Puerto Rico. This signal was transmitted only once. And I'm not sure what Lynn is referring to with this reference, but the same titled track has been already played over and over on these speakers. This is a must have for those a bit tired by the constant dubstep grind, and want to add a little spice into their daily muddled wobble. Good to know someone keeps the genre on the edge of experimental electronica. If you like your dubstep with a zing, then Boxcutter is for you!
Besides the above mentioned albums there are more goodies from Lynn. Last year, he delivered a collection of previously unreleased material produced in his earlier years, Balancing Lakes (Planet Mu, 2008). Although the tracks had a few dated components (namely because they were written between 2002 and 2005), they still made an impact on me, and the album rose to the top of my favorites for 2008. So make sure to grab that if you can. Recommended for fans of Vex'd, iTAL tEK, 2562 and Autechre.
myspace.com/barrylynnmusic | planet-mu.com/artists/Boxcutter
myspace.com/childrenofmu | planet-mu.com