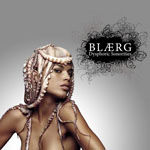 Since the good ol' days of Squarepusher's jazzy idm breaks, laced with jungle flavored drill'n'bass, I've been nostalgic for that fading away sound. Even Venetian Snares modern-classical-meets-breakcore masterpiece, Rossz Csillag Alatt Született (Planet Mu, 2005), is now almost four years old. Has the genre put on an angrier mask and turned to gabber-heavy random-triggered mayhem? Where are those melodically driven themes complimented by intelligent macro programmed precision percussion? Or maybe I'm just not looking in the right places. Feel free to turn me in the right direction.
Imagine my surprise when I landed on BLÆRG. This Ohio (US) based producer is everything mentioned above and more! [Yes, exclamation point is really necessary at this point]. Scott Wehman is not exactly a newcomer to the scene. Initially playing bass guitar for a few local metal bands, Wehman turned to producing electronica. With a few digital releases and a full length, Sesquipedalia (FromTheGut, 2007), Wehman joined Detroit stationed Bottle Imp Productions' roster, and opened up with a his sophomore album, Dysphoric Sonorities. Following this release he put out a very lovely limited EP [only 50 copies!], Auspices & Vagaries (Bottle Imp, 2008) and a collection of earlier tracks [presumably traded over the slsk network], Soulseek Days (Bottle Imp, 2008).
On Dysphoric Sonorities, Wehman cleverly masters all of the beloved elements of intelligent breakcore – from jazzy keys, to bass slaps, to piano chords, to acoustic percussion drilled and glitched out to perfection. And there is enough evil in there to satisfy the angry rats scratching at the surface of the inside of my skull. Oh, and did I mentioned that production is top notch? Highly recommended along with the EP (if you are one of the lucky ones to get your dirty paws on it), if you like above mentioned names, plus Xanopticon, The Flashbulb, Enduser, Igorrr and Wisp.
myspace.com/blaerg |  fromthegut.org/blaerg
myspace.com/bottleimpproductions |  bottle-imp.com
more on headphone commute