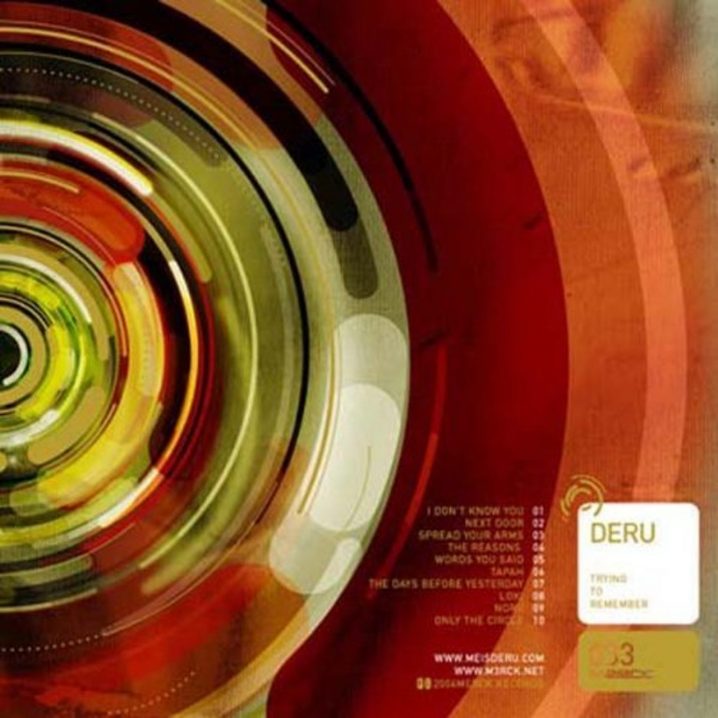 It's been almost two years since one of the leading IDM labels operating out of Florida, closed its doors. My dear Merck… I'm tired of sighing. Your impact on the music scene still resonates till this day – with new artists drawing inspirations from your past releases, and abandoned musicians still scrambling to find a new home for their future work. In the same light, I haven't heard anything from Deru since his 2004 release on Merck, Trying To Remember. He has, however, just finished his third album, Say Goodbye To Useless, which is scheduled to be released in the first half of 2009.
About a year ago, I saw Benjamin Wynn play out live, at an outdoor festival, and his deep bass and punchy beats sent the vibrations far through the woods. Add to that some subliminal melodic samples with a glitch and swirling effects, and you got somewhat of a staple sound as spearheaded by the likes of Funckarma, Hecq, Kattoo, Gridlock, etc. (I can go on and on). One of my favorite tracks, is Deru's remix of Yasume's Rengoku, appearing on Colonized 01 (Colony Productions, 2007). Some very cinematic and futuristic moments there. His other treasured releases include the Pushing Air LP (Neo Ouija, 2003) and a remix compilation of his originals, released on a beautiful 10″ vinyl, Pushing Soil (Delikatessen, 2004), with reworked tracks by Xela, Ginormous, Lo Grey Beam and Lusine. Deru returned the favor to Jeff McIlwain by remixing Auto Pilot on Lusine's Podgelism (Ghostly, 2007). Deru also appeared on Sutemos' Intelligent Toys 3 and even remixed KiloWatts' Two Days Off on Problems/Solved (AMM, 2006).
Throughout his short discography, Wynn has managed to perfect his found sound. It is atmospheric. It is thumping. It is fractured. And once you hear it, you'll be able to recognize his touch and influence in others. Highly recommended. And I am anxiously awaiting his upcoming new album!