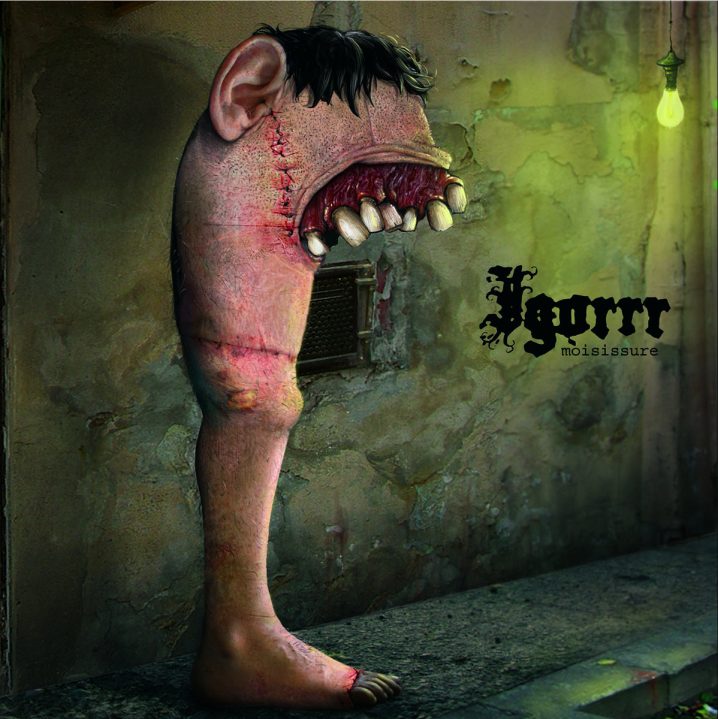 Slap! What an album… I'm really out of words. Let me attempt. Track one – Valse En Décomposition – baroque organ chords with a low-fi trip-hop beat followed by a bee buzzing turning into glitchy classical piece. Track two – Oesophage De Tourterelle – light piano arpeggios, tremolos and octave scaling progressions turning into insane breakcore. Track three – Putrefiunt – solo monk voice over a flamenco guitar exploding into hardcore death metal cookie-monster mayhem. Or how about 40's gramophone swing laced with gabber? And then there are eight more tracks! I haven't heard such a collection of molded styles before, and it's working… it's working really well!
Gautier "Igorrr" Serre, is a French (unsigned!) producer skillfully experimenting with samples, beats, breaks, and genres. Serre is also the founder of a speedcore death electro metal/nica project WHOURKR with a single album Naät (self, 2007). Look, I absolutely love Venetian Snares and any crazy juxtaposition of hard styles, but when I happen to venture outside of the leading names, I encounter mostly noise and thoughtless production. Igorrr changes all that. He brings the fun back into breakcore and intelligence into design. Igorrr is a sonic painter who throws nails into aged strawberry jam, lets the slime dribble over your favorite toy, and serves it on a silver plated toilet seat. With a goat shake on the side. Eat it.
Moisissure is so fun, you'll be back for more. Perhaps you're secure a copy of his 2006 release, Poisson Soluble. Recommended for the fans of V.Snares, Bong-Ra, Enduser, and Doormouse. Have fun chasing flies with your mouse on Igorrr's web site.