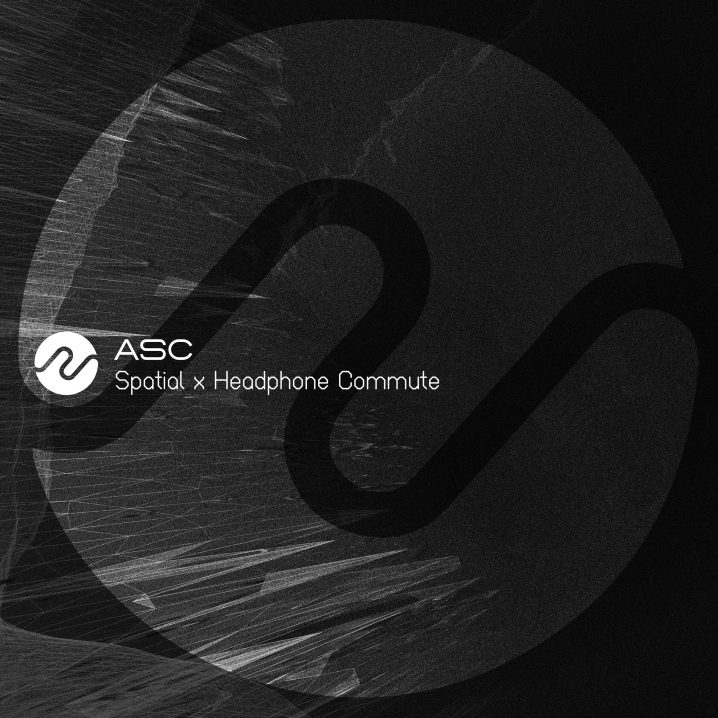 I've got something slightly different for you today than the usual fair. How are you feeling about atmospheric drum & bass this morning? To be fair, this is not the first time that I've showcased this genre on these pages (see Clima's Headphone Commute Mix or the super fun Chill & Bass Mix by Orangewarrior). Except for this time, it's also a label showcase, featuring very special selections from James Clements' newly launched Spatial imprint (a sub-label for his Auxiliary), with an ethos to "recapture the essence of the mid 90's scene" featuring classic breaks and heavy sub-bass. So far, the roster includes James' own celebrated ASC project, as well as Simon Huxtable's Aural Imbalance, but I suspect it may grow further, beyond the two. Meanwhile, because of the tight curation, each release is a beautiful and cohesive 12″ (yes, FINALLY available on vinyl) as well as a digital offering via the usual channels. In any case, this is an absolutely wonderful and very welcome journey for my sunny morning, and I hope that it'll be for you as well! I'll stop talking here but will include a pretty lengthy writeup from the label boss himself (see below the tracklisting). Enjoy!
Tracklisting
00:00

ASC

Spatial Intro #1

01:04

Aural Imbalance

Celestial Beings

07:30

ASC

State Of Mind

13:24

ASC

Sunless Sky

18:59

Aural Imbalance

Aphelion's Edge

25:05

ASC

Force Majeure

32:11

ASC

The Arcane

39:23

Aural Imbalance

Averted Visions

44:24

Aural Imbalance

Hypnosis

48:59

ASC

Stargate

54:59

ASC

Cosmic Energy

62:59

Aural Imbalance

Caladan Shores

66:59

ASC

Prophecy
The following are words by James Clements
As you may already know, this was the music I grew up on. I first got into the hardcore/rave scene around 1990/1991 and followed it through to the early days of jungle. Once we'd well and truly left the hardcore days behind, I started gravitating towards the ambient and more musical side of jungle. Moving Shadow was a seminal label in shaping my vision of what I loved and wanted more of from the music. Tracks like Omni Trio's 'Rollin' Heights' and 'Thru The Vibe' left a huge impression on me. The music was deep, emotive, but heavy and danceable too. It was unlike anything else around at the time and I was hooked from the start. I started to explore more, and as I was getting into DJ'ing myself, I naturally started to look for DJ's who were pioneering these sounds, which introduced my ears to LTJ Bukem. To say Bukem had a huge influence on me back then is an understatement. Around this time, the music had become known as drum & bass, and what Bukem was playing was referred to as 'intelligent' drum & bass, which was a thankfully short-lived silly term, before it became known as atmospheric drum & bass. This was what inspired me to start writing my own music around 1996/1997. Looking back, I felt my production skills just weren't ready to contribute to this music I loved until the scene started to die out and 'liquid funk' became the new fad, and pretty much replaced atmospheric drum & bass to this day.
I was chatting with my good friend Presha (Samurai Music) about the golden old days sometime in 2019, after not touching a breakbeat or writing anything resembling traditional drum & bass for the best part of a decade, I decided it'd be fun to go back to the music I loved in the mid 90's, but with 20+ years of production and studio knowledge. Again, I hadn't been taking notice of anything that had been going on in drum & bass and upon realising that the scene had changed so much (for the worse IMO), I decided I would pay zero attention to it and simply write what I wanted. For me, atmospheric drum & bass is all about serene atmospheres, classic breakbeats (edited or just used straight depending on the vibe of the tune), and that lovely low rumble of a solid 808 bassline. I realised that this just didn't exist any more, or if it did, it was at a tempo I couldn't vibe with. The one thing I truly love about the mid 90's drum & bass was the tempo. It was roughly between 155-165, and at that tempo, there is the beauty of space between the breaks and bass, which really allows the music to breathe. Once this gets sped up beyond 165 and past 170 bpm, it just loses all of that in my opinion. Of course, I hadn't followed the drum & bass scene for years, so when I'd hear the odd track I thought was OK, it was always far too fast. I made the decision that when I start writing this stuff again, it would have a speed limit of about 160 bpm for me. That seemed like the perfect ballpark figure for what I wanted to do.
Going back to vibes Bukem was pushing with Good Looking Records in the mid 90's, there was a golden period around 95-97 that absolutely nailed this vibe. That's exactly what I am trying to achieve with Spatial. The first releases are by myself and another good friend of mine, Simon (Aural Imbalance), and for the foreseeable future Spatial will be a platform for our untainted vision of atmospheric drum & bass. I've reached out to some other artists and informed them of the label's mission statement, so we'll see if that bares any fruit in the forthcoming months, but I am more than happy to be releasing mine and Simon's music forever, as we are both on the same wavelength and share the same vision for what this should be about.
— James Clements