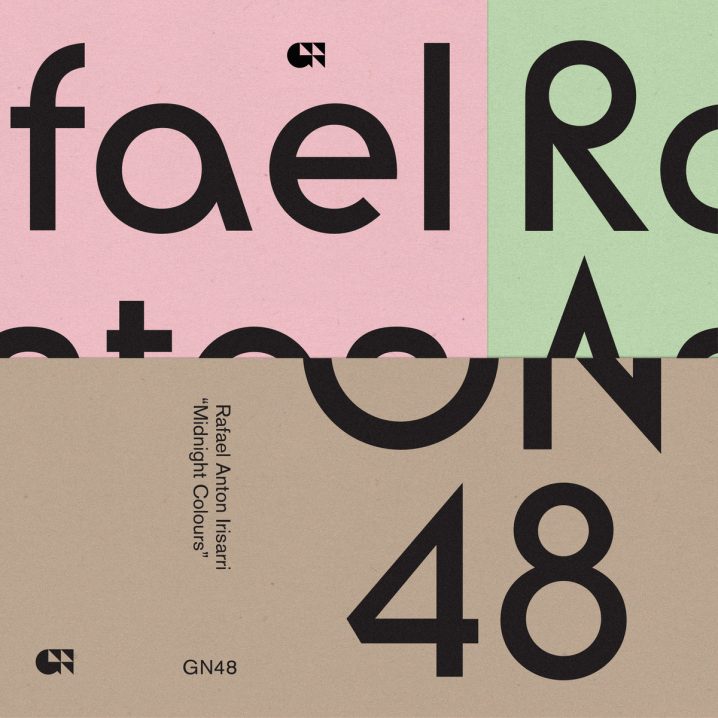 Rafael Anton Irisarri has been very productive in the last couple of years. In 2017 alone, we have seen a full-length The Shameless Years on Umer Rex, a collaboration with Leandro Fresco titled La Equidistancia on A Strangely Isolated Place, a beautiful 10″ record with Julianna Barwick on Thesis, and now, early in the year, what I believe may be his very first cassette release on a little known Atlanta (Georgia) based label, Geographic North. I say "a little known" but at the same time I'd like to acknowledge that this cassette and vinyl record imprint has been around for a decade, responsible for quality releases from Tarentel, Belong, Windy & Carl, Mountains, Pan•American, Moon Diagrams, and many others, so if you're new to the label, there's plenty to dig through (and you can even get a 7″ mail order subscription).
On Midnight Colours, Irisarri works his textured guitar-driven lo-fi drone-ways into a layered expansive fabric of sonics. Although the overdriven distortion is still slightly present throughout the process, Irisarri manages to turn its crude murmur into a quiet, ambient, and tranquil expanse. This is a meditative locality, intricately folded, attenuated and released until the very essence of sound permeates our journey and acts as an honourable escort into a dark and sacred place. Here, the word "dark" should not be treated lightly (no pun intended), as the dense undertones of frequencies leave plenty to examine, before they let a ray shine through. Throughout its forty-minute unfolding, the album captures, captivates, and contains, allowing the listener to move about his stark surroundings revealing their truths within their being.
The eight new songs were conceived as a sort of soundtrack to the "Midnight Clock" or "Doomsday Clock" – a symbol which represents the likelihood of a man-made global catastrophe. Recorded in 2017, when the Clock was at 2½ minutes-to-midnight (the second-closest to midnight since the Clock's start in 1947), 'Midnight Colours' permeates with the melancholy of memories resurfacing as you get close to the end of life: the regret, the closure, the uncertainty, the anxiety, and so on…
Throughout the album, there is an undercurrent of doubt, a sense of realistic pessimism on humanity as a whole, and contemplation on mortality, of those around him, and certainly, on Irisarri's very own. The past couple of years have been pungent with events that would evoke these emotions even in the callous of the beings, and although many would internalize the sentiments and senses, we find that Irisarri can express these feelings through his work. For that, I'm grateful, of course, since through his music, I'm able to relate, reflect, and reconnect with those who share this mournful beauty, in all its morbid, melancholy grace.