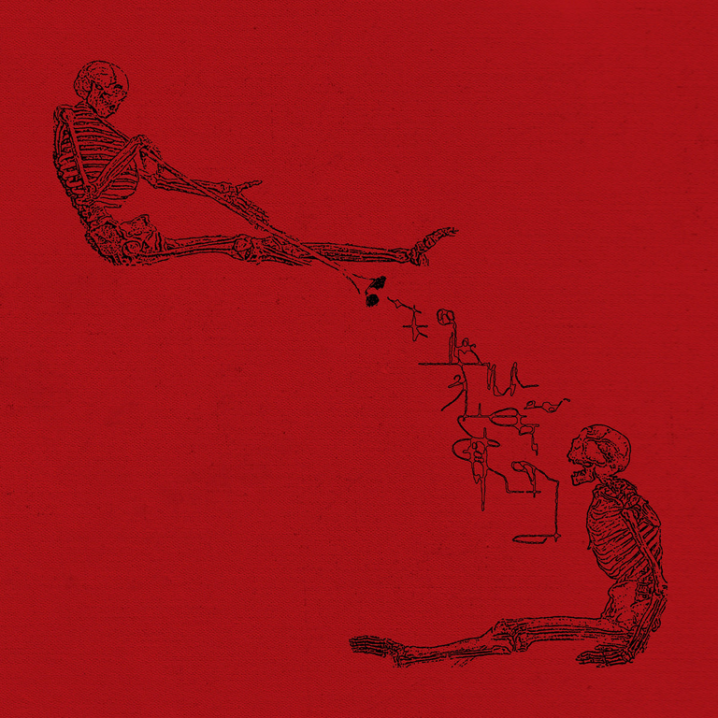 Playing through my endless library on random I can always tell when I land on a Marcus Fjellström track, even if I haven't ever heard this piece before. It's a testament to this Sweden-born and now London-based composer's artistry, his very own palette of sounds and unique approach to composition that makes him instantly recognizable and stand out from the crowd. Once again I want to deeply thank Erik Skodvin and his Miasmah imprint for introducing me to Fjellström and his works, back with the 2010 Schattenspieler, which has forever mesmerized, delighted and enthralled.
Fjellström's music falls within that cinematic noir-fi genre, to which I've recently attributed the works of Elegi, Black Swan, Strië, and the rest of Miasmah family, like Kaboom Karavan and Kreng. Continuing his previously explored textures via the last two EPs, Epilogue -M- (Aagoo, 2013) and Lichtspiel Mutation 2 : Alechsis (Dronarivm, 2014), Skelektikon paints a drab yet lucid picture of a well-defined and flawlessly executed aesthetic, becoming more and more concrete with every single listen. There is an eerie fabric to these sounds – like a warm yet scratchy wool sweater: you want to wear it for its comfort, yet recognize the slight displeasure of its feel. That is, perhaps, without further explanation, the reason that this music pulls me forth. Listening to Fjellström, and particularly Skelektikon, leaves a certain taste of mildly questionable exquisiteness, that I crave again as soon as the music ends.
Born out of shattered dreams and an obscured vision of the future, Skelektikon is a delirious yet lucid exploration of the farthest and most conflicted reaches of the heart, teeming with confusion, passion, and ghostly shadows.
Skelektikon is the soundtrack to dingy alleys, abandoned dwellings and adopted crypts. It is a place where spiders roam, their webs floating through the windless tunnels, with gusts of air howling midnight songs. Lost shellac records scratching tunes against dull needles, with silent echoes of the sinfoniettas bouncing against the humid walls. The time stands still here, in this putrid silence, so thick with memories that one can barely breathe. Nostalgia becomes a tangible congealed material, with which then Fjellström brushes dull and tinted strokes. It's slightly chilly here, on the floor of this cavernous grotto, but I will stay for just a little more – I've got that scratchy sweater, after all, to keep me warm and cozy for the moment.
Inhabited by the bizarre and the beautiful, Marcus's music is a blurred yet encouraging representation of how you can never trust your own feelings – or eyes and ears for that matter. […] Opening our eyes after the final track has dissipated, we wouldn't be surprised to find someone or something there, staring at us, in silent and unsettling knowledge.
I want to shortly divert your attention to the video that I have shared above with this recommendation, as it too have been not only put together by Fjellström himself but entirely animated. If Skelektikon was a true soundtrack to a film, then this short piece, titled "Hermitage" would be what images it occupies along inside this artist's head. They're strangely elegant, macabre, and occult. The 40+ minute album is available on a limited edition red, and separately on black vinyl, alongside digital release and a CD.