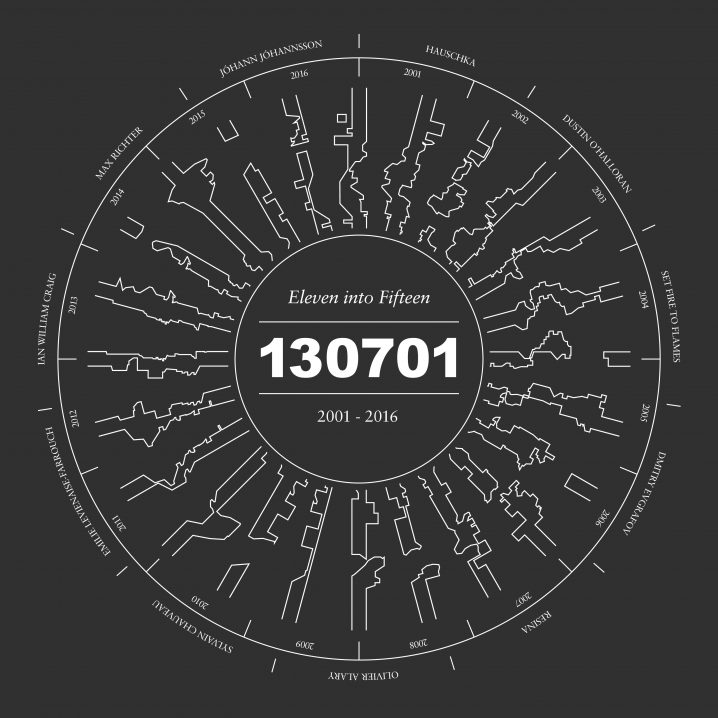 Compilations are both, fun and difficult to cover. Often presenting a particular musical genre, a unifying theme, or as a label showcase, a compilation offers the listener an opportunity to sample the wares of various artists, hopefully discovering a few new names along the way. The best compilations offer all three of the above features, delivering a nice little package (physical or virtual) retaining its appeal for the many years to come. This was the case with Brighton (UK) based FatCat Records' offshoot, 130701, named after the date of its inception (July 13, 2001), when it released a long-titled Floored Memory… Fading Location: A Compilation Of Music From Fatcat's 130701 Imprint, which featured music from Max Richter, Hauschka, Sylvain Chauveau, and Set Fire To Flames. In fact, this 11-track Various Artists catalog entry contained multiple tracks by each artist, curating a single, continuous listening experience, unusual for the typical assortment of tunes.
Eleven into Fifteen descends upon us in time with the imprint's fifteenth anniversary (July 13th, as you may have already guessed), highlighting eleven pieces from some of the world's most celebrated modern classical composers. Among the four prominent names already mentioned above, David Howell (130701 label boss) spotlights Oliver Alary, Dustin O'Halloran, Dmitry Evgrafov, Resina, Emilie Levienaise-Farrouch, Ian William Craig, and the most honorable, Jóhann Jóhannsson. The latter graces our ears with a 12-minute live recording of "They Being Dead Yet Speaketh" (taken from The Miners' Hymns) which was performed for New York Public Radio at the World Financial Center Wintergarden, in New York City on January 31st, 2012 [recorded with the Wordless Music Orchestra, conducted by Gudni Franzson].
Growing to encompass a hugely influential, high quality stable of artists operating at the cutting edge of the modern classical genre, 130701 has come to embody incredibly graceful and evocative music with a serious sense of purpose and a huge emotional weight.
There are many fascinating and wonderful tracks on this compilation. Dustin O'Halloran's "Constreaux No. 2", for example, evokes the motifs of prepared piano, and for a second I have to double check if somehow the track did not accidentally get interchanged with that one of Hauschka, who, in turn, offers a previously unreleased piece titled "Quiet", dating from his 2008 Ferndorf, when I was originally mesmerized with his prepared piano staple sound. The 10-minute "Barn Levitate" from Set Fire To Flames, featuring members of Godspeed You! Black Emperor, Fly Pan Am, and other characters of Montreal's vibrant music scene, offer up a brooding, slow-burning, post-everything cinematic piece, that resonates in your mind long after the persistent bell-ringing is gone. This is the first SFTF appearance since their 2003 Telegraphs In Negative / Mouths Trapped In Static.
The beloved Max Richter glorifies with a delicate "Bach Study", a truly cinematic immersion in strings and minimalism, evolving slowly until it disintegrates half way through, revealing a few distant piano chords shining through the tape decay. This man continues to impress and seriously can do no wrong – this track plus the one of Jóhannsson's are worthy alone of your investment! Sylvain Chauveau's "N B" soars with a shimmering guitar tremolo drenched in delay, creating a sense of euphoria, joy and delight. Perhaps the most charming contributions come from a group of three new signings, Ian William Craig, Olivier Alary and Resina, whose very first 130701 albums are due to be released later this year. Definitely something new to discover and look forward to in the remainder of this year! Onwards and upwards!