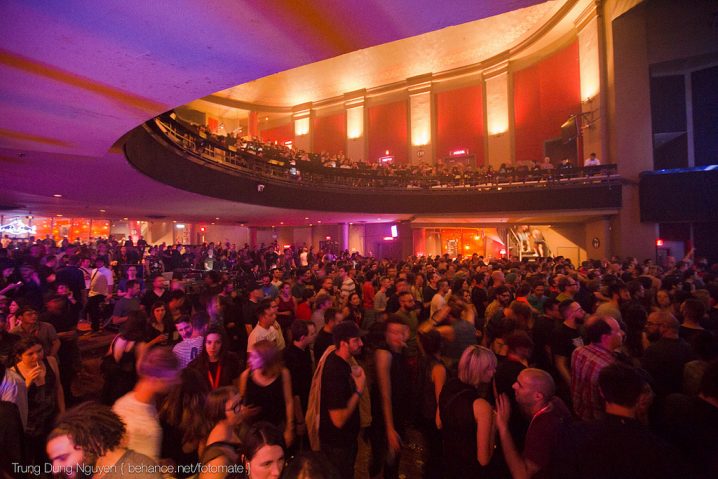 On Friday I began my MUTEK experience with a few daytime activities, presented in the nearby Centre Phi. Kicking off with Resident Advisor's Machine Love Live, I spent an hour in the company of Uwe Schmidt, who, only a night before, performed alongside Robin Fox as Atom™. In this interview with Jordan Rothlein, Schmidt shared his approach and a few anecdotes on finicky setup of live performances, configuring his MPC clock to drive the sync between the A/V, as well as the act of teaching himself to create visuals from scratch. It was indeed his overall obsessive nature, and the distraction of video that was never connected to the audio, that drove Schmidt to create his very own projections.
Meanwhile, on a different floor, Richard Devine presented a lecture on his creative process, technical expertise and artistic vision as a sound designer with an acute interest in the resurgence of modular systems. All this, while Miles Whittaker of Demdike Stare and Millie & Andrea gave a quick Ableton Live workshop on bending the rules of composition, by creating an entire track using a single kick drum. Additional panels the same day included a discussion with Brian Massumi, Jonathan Sterne, Toby Heys and Steve Goodman (aka Kode9) on "a century of zombie sound and everything that entails from a military through to a cultural context" focusing on the themes explored in the latest AUDINT installation and the book + LP that complements it.
After a quick bite (you mustn't forget to eat at the festivals!) I made my way over to Théâtre Maisonneuve for the first A/Visions showcase, titled Ballet Électronique. For an opening, Montreal-based Maotic & Metametric presented a collection of hypnotic generative visuals, inspired by "the concept and technological reality of ubiquity," with optical illusions, kaleidoscopic patterns, and mesmerizing worm holes. This early evening performance hit its climax with a total sensory overload by a Japanese multidisciplinary artist, Hiroaki Umeda, who accompanied his multidimensional projections of fast moving pixels with digitally cut up high frequency glitches, and his very own body, dancing in the midst of reflecting screens, converging on interactions between movement and light. This was absolutely intense!
By nighttime I felt already a bit mentally fatigued from all of the aural and visual input, but, of course, I made my way towards the Musée d'Art Contemporain to catch a performance by Rival Consoles. On the stage, Ryan Lee West created warm emotional electronica merged with a woven blanket of pulsating beats, which got the whole crowd dancing. After the many hours of digitally dissected abstractions, these tones of beautiful harmony were a welcome antidote to my truly zonked out mind. West holds a very special place in my heart, as the very first signing to the beloved Erased Tapes label, so it's an honor and a certain sense of pride, with which I watched him blow away the audience, featuring previously unreleased tracks, which I hope will appear on his upcoming album in Autumn.
As midnight approached, I got my second wind, and suddenly it felt like all of the festivities have only begun! Rival Consoles gave up the stage to his label-mates, Kiasmos, who are, of course, none other than Janus Rasmussen and modern classical composer Ólafur Arnalds. The two charmed the congregation with their unique take on minimal tech-house blended with Arnalds' nostalgic sensibility expressed through cinematic strings, synth pads and piano keys. The familiar compositions appeared courtesy of their 2014 self-titled release on Erased Tapes, which I highly recommend you pick up. Be sure to also check out Headphone Commute's In the studio with Kiasmos.
I caught a bit of John Tejada, playing some of my favorite tracks off his latest Signs Under Test, out on Kompakt. At this time I really needed a change of scenery, or more importantly, I was ready for a club! By the time I made my way over to Metropolis, its Faith In Techno Friday night was in full swing. Regrettably, I have already missed the earlier performances by Stärker, Andy Stott, and Steffi, but as any festival-goer already knows, these sacrifices are unavoidable and are futile to mourn after. Besides, as I walked in, Rrose was bestowing something dangerously evil and strikingly gorgeous all at the same time. Questioning the acceptance of gender norms and cloaked in mystery [yet, those who know, know], this Sandwell District artist, and most recently her/his very own label boss for Eaux, dropped an impressive set of dark and wicked techno, that still gives me the chills.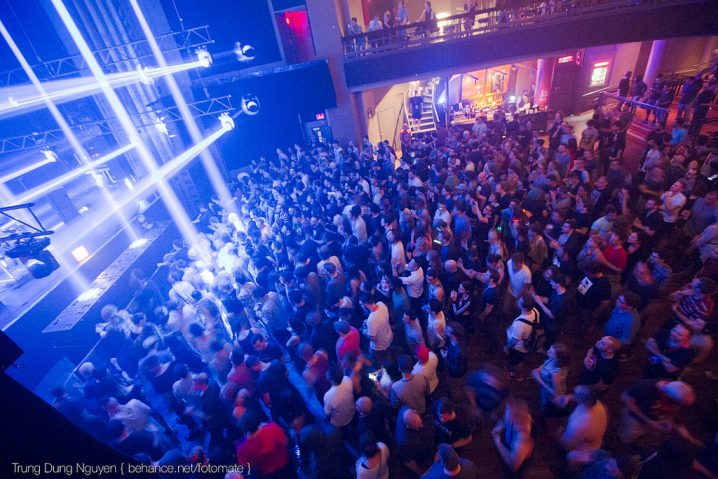 For the closer, Luca Mortellaro, the founder of the Stroboscopic Artefacts, rolled in to boast his wares. I've been personally following the label since its inception, and as a proud owner of its Stellate series, boxed in a circular metallic tin housing transparent 10″ vinyl, I was elated to experience the sound of Lucy on such impressive sound system. I've been to Metropolis for many years now, but for some reason, this particular night, with its explosive pounding minimal techno, and laser strobe lights, left a particularly euphoric impact on my mind. So with these last thoughts, ending on a good note and even bigger spirits, I bid my Friday night adieu, and chose to skip the after-party, saving what energy I had left for the final night of Mutek.
©
Words by HC
Photography credits as watermarked, republished with permission.