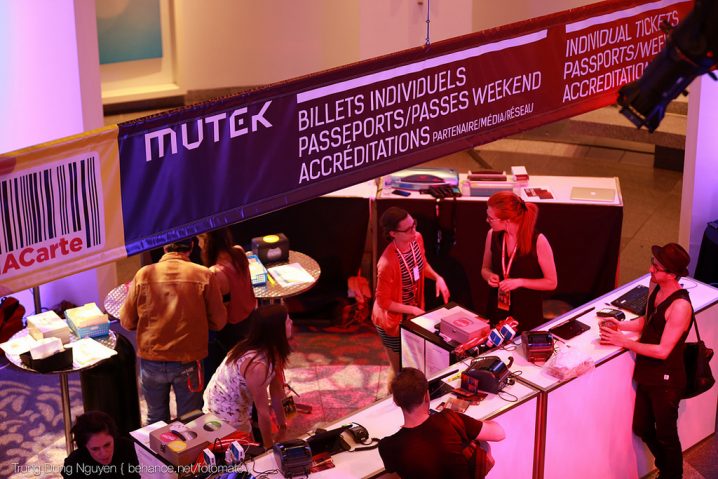 The festival officially kicked off on a Wednesday, with the first installment of Nocturnes taking place at the Musée d'Art Contemporain (MAC), covering two distinct audiovisual themes: Circuitous Wanderlust and Arpeggiated Anthems. The former began with a showcase by Toronto-based electronic musician and sound designer Jakob Thiesen, performing as Waveshaper, folding experimental ambient waves into layers of field recordings. Sounds of rain transformed into repetitive atmospheric modulations over liquified visuals of oceanic wildlife, botanical juxtapositions and organically manipulated matter. Thiesen has previously collaborated with Aidan Baker and worked with Solvent on sound design for the I Dream Of Wires documentary on modular synthesis.
Upstairs, Montréal based Mini & Nelly-Eve Rajotte weaved warm chord progressions into futuristic video manipulations of panoramic aerial shots of snow-covered terrain, which occasionally spiked into needles of digital pixels, in time with the slow rolling rhythm. "Developed specifically for MUTEK, Mini & Nelly-Eve Rajotte explore man's ephemeral, ever complex relationship with nature, dissolving layered landscapes and ultra-slo-mo waterfalls and snowstorms into purely conceptual matter." Back downstairs, in what appeared to me a mirrored thematic performance, a duo of Billy Dalessandro & Ombossa presented their own live "psychedelic film experience" of rhythmic ambiance and minor dubby synth stabs overlaid on top of kaleidoscopic visuals of mountains, beaches, and canyons with cell shaded coloring echoing the background piano rolls.
The night peaked with a performance by James Holden who invited Tom Page to accompany Holden's modular arpeggios on acoustic drums. The shimmering analogue textures soared along the scales in a high-pitched glissando, arcade chiptune melodies, and super warm harmonies. These live synth manipulations and their epic progressive chords were similar to Holden's last studio album, The Inheritors (2013), released on his very own genre-bending Border Community label. Finally, the museum turned into a nightclub with a shattering bass drum from Lithuanian-born Marijus Adomaitis, performing under his Ten Walls moniker. The dark atmospheres, shuffling whispers, and acid lines were punctured with a super heavy kick, that rattled the concrete foundation of the building.
I was too busy dancing to the four-to-the-floor beat, so I regrettably missed Lvis Mejía's Stigmata, which, when I earlier glanced into a dark room full of sitting silhouettes, looked dark, drony and lethargic. Throughout the night, I bounced between the two floors of the museum, and even with the two events going on simultaneously I was delighted with the non-conflicting schedule of performances going on at the same venue, without the need to make a difficult choice of trekking across town to catch another artist. This was indeed a very promising opening night – stay tuned for further coverage!
©
Words by HC
Photography credits as watermarked, republished with permission.