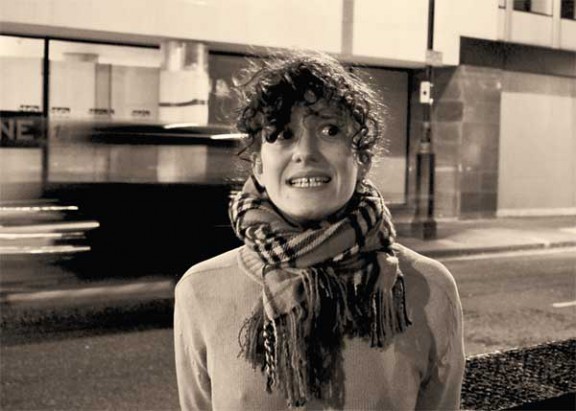 Mica Levi, known by her stage name Micachu is an English composer who has recently come into our spotlight with her amazing soundtrack for Under The Skin. If you're anywhere around Los Angeles, be sure to catch Mica on January 6th (7:00pm and 10:00pm shows) for a live screening of Under The Skin with Mica and a 25-piece orchestra (Wild Up! Orchestra + Wordless Music Orchestra) at The Regent Theater.
Hi, Mica. How are you and where are you these days?
I'm good, thanks. I'm in London – hope you are well.
So this was your very first soundtrack, right? How different was the composition process from all of your past experience?
It was very different because it was very long and the music had to find its own pace and style or language to suit the film. Throwing everything you got at it – it eventually cuts the good from the bad I liked that about the process. I think this film was pretty fluid in its conception, like an expert painter can afford to improvise after years of graft and Jon was like that. He was keen to let it breathe and go with the flow of what he was making and go ham when it felt right. No halves and maybes, that's when you're flying – not settling for maybes.
Can you tell us how you got involved in this particular project?
As I understand it, Pete Raeburn (the music producer) played Jon some of my music because they were looking for a composer. I went in to meet them, and then it was a year later.
Tell us about the instruments and production techniques used in composing the score.
Strings, synthetic strings, percussion and flute. There is some effects processing in the guitars but it was important to keep the effects in production to a minimum so that the score could be cohesively performed live.
When thinking about that 'otherwordly' music, what is the aesthetic that comes to mind? What makes some music 'human'?
I guess human error – and the small clashes in pitch implies unity to me, like 20 people singing a song. But in this, the more human feelings are expressed with synth strings. They can hold a chord forever with no flinching because its android, which in the score hopefully expresses a human yearning and foreverness.
What do you think it is about certain sounds, harmony, or dynamics that can evoke that 'uncomfortable' and 'tense' feeling?
If something is familiar but not right distorted in some way dynamics, pitch, copy, deterioration – it acts like uncanny vally – like a rubber mask.
What are your thoughts on consumption of "Under The Skin" as an album, having not seen the film, as opposed to an accompaniment to a story?
I mean its weird. I see the album as further reference material to the film which is the complete thing – but it's out there so if someone is led to the film this other way it's all love – but yeah, see the film!
Reflecting on the entire experience now, how does it feel, having composed such intricate work?
Feels exhausted and proud.