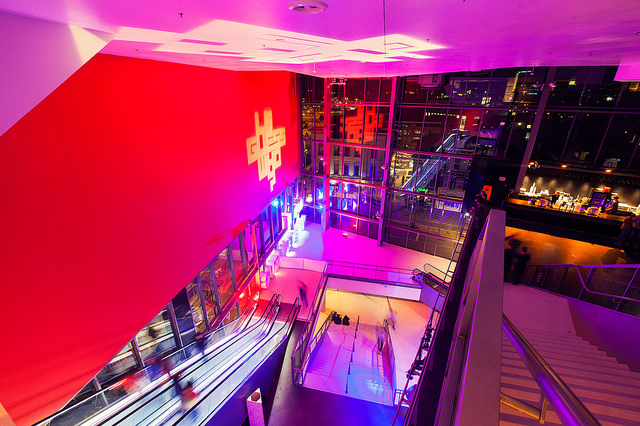 Inside TivoliVredenburg © Erik Luyten
On Saturday the country woke up to a bright sunny day, and I took the opportunity to take a day trip into Amsterdam, for a quick taste of the city's wares, its Renaissance architecture, and the endless beautiful canals. It was hard to let go of the Dutch capital, and with the last final stop-over for the [#2] best fries in the entire Holland, I was back on the train to Utrecht, sadly missing the shows by Hauschka and Federico Albanese, but in time for A Winged Victory For The Sullen.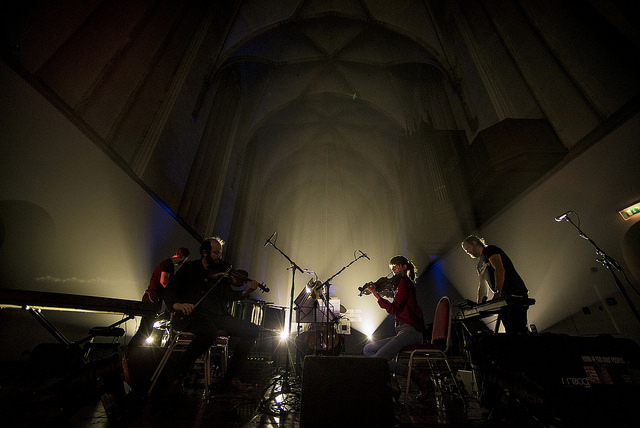 A Winged Victory For The Sullen © Tim van Veen
At the apse of the Janskerk (a church in Utrecht dedicated to John the Baptist), Dustin O'Halloran and Adam Wiltzie (of Stars of the Lid) were among a three-piece string orchestra, performing pieces from their latest album Atomos recently released on Erased Tapes and Kranky. The slow-paced movements reverberated against the Gothic interior, uplifting its Romanesque history with longing and hope. Deep bass penetrated the wooden pews eventually dissolving along the vibrant piano keys. Twenty minutes away Sebastian Plano was enchanting the audience with his take on modern classical sound. A cello with its own mounted controls soared and moaned, as Plano tapped out the glitchy rhythm on its pads. This may have been a favorite performance of the evening, and as I write these words, his last two albums on Denovali, Impetus and Arrhythmical Part of Hearts are queued up in my headphones.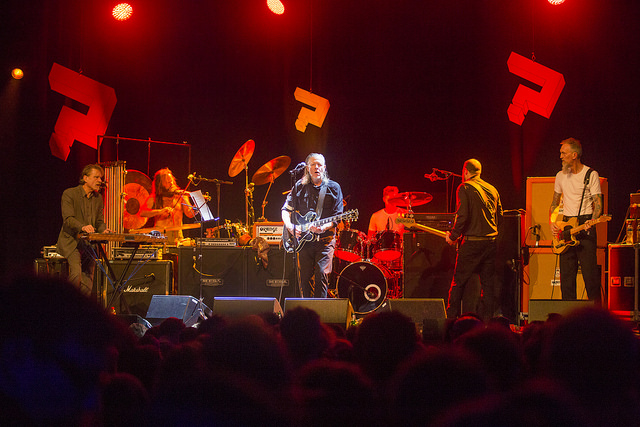 Swans © Erik Luyten
Back at TivoliVredenburg the Swans were rocking the crowd, while shortly after midnight, Tim Hecker opened for the "24-hour dronefest". Expecting excruciating volumes, I plugged up my ear canals, only to be drenched in a wash of organic din, attributed to the earlier output of this Canadian artist (now residing in LA). Up and down the stairs I went, now running to secure a spot in the closed-doors auditorium for the upcoming performance by Autechre as Don Funcken (of Funckarma) spun a DJ set before the show. The highly anticipated live gig by the acclaimed Manchester duo was a slight regression, and I found myself just standing in a complete darkness in the middle of the dance floor, as Sean Booth and Rob Brown bent and twisted the sonic architects' perversions with no sign of rhythm or structure. This was perhaps their intention, but my desire was to dance.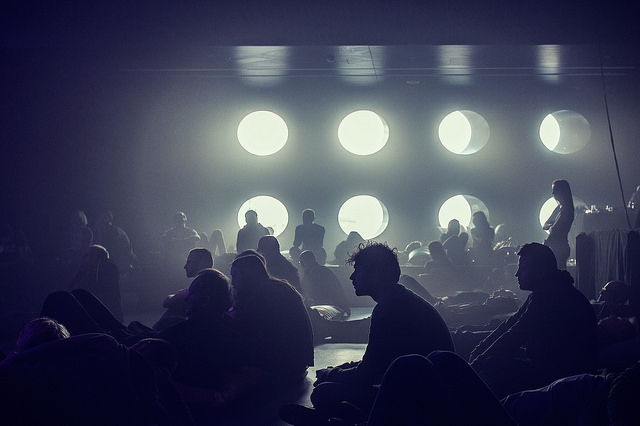 Dronefest © Juri Hiensch
Thankfully back upstairs (stairs again) Emptyset were laying down solid cadence. Not exactly drone-like for the second part of the "dronefest", but nevertheless a welcome stomp-out of their clear-cut hard-line beats. No wonder that Raster-Noton has picked up the duo of James Ginzburg and Paul Purgas from their Subtext dwelling for Recur. A surprisingly gratifying performance. Yet another floor higher, at a venue appropriately titled Cloud 9, Chicago based Hieroglyphic Being began his electro-housy set of techno loops and noise. At this point I checked the clock, and with 4:00 am glaring in the darkness I decided to call it a night. And although a puddle of pillows at the dronefest sounded like an enticing experience, I chose a bed and pillow for my sleep.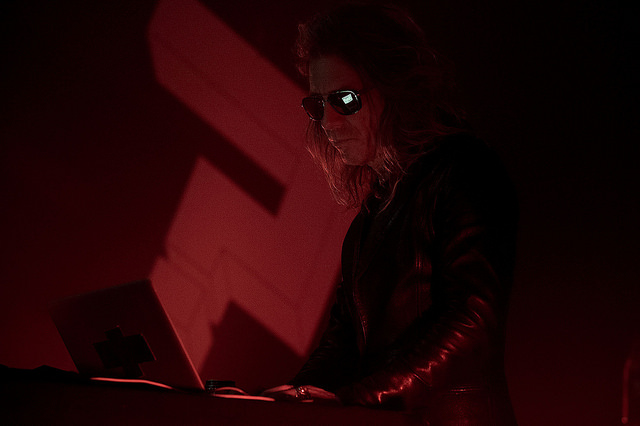 Dronefest © Tim van Veen
On Sunday I traversed the streets of Utrecht, occasionally stopping at TivoliVredenburg for a snoop of dronefest. Throughout the day I tried and failed to catch Machinefabriek and Graeth Davis. Among the many single-note continuous drones my favorite performance of the night was the one by William Basinski. And as St. Vincent charmed the gathered crowds, my festival concluded with a Turkish song and dance by Selda, a political activist previously imprisoned for her words. And with an early morning flight back to New York, I bid the Netherlands adieu, leaving behind many memories, a few dead brain cells, and many newly found friends. Utrecht left a cordial impression on my mind, and I will come back once again! Here's to an exciting lineup for the next year!
©
Words by HC