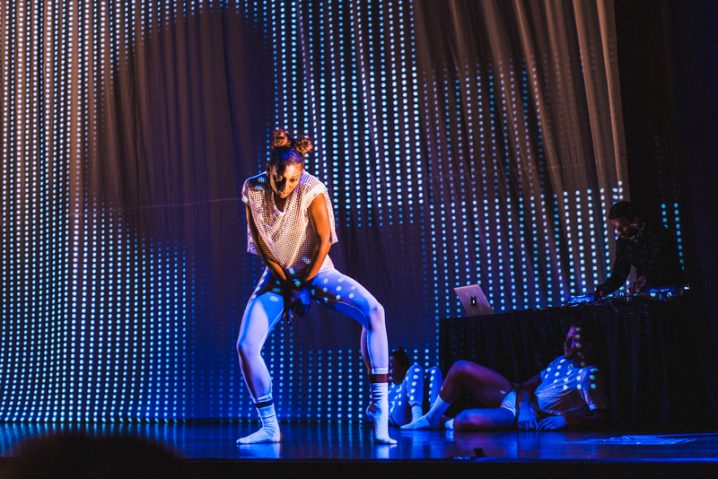 The festival's second day begun under the same conceptual auspice; Decibel's multi-media Optical showcase for adventurous forays into recombinant audiovisual performances. Tonight's setup was a good bit different, with the Rolls Royce of Seattle's performance venues, the Nordstrom Recital Room at the Benaroya Symphony Hall setting the stage for the second of Max Cooper's sets of the week. Opening the night's performance was Alice Bohman and ensemble's simple yet plaintive take on an era of songstress that seems largely lost, the inwardly-looking eccentricity of the late to mid-1980's, positioned exactly between Ivo Watts-Russell's This Mortal Coil, The Sundays and mid-period Kate Bush. Not a bad place to find oneself, but certainly unexpected and a bit at odds with a showcase of new sonic and visual media.
In the way of the unexpected, when Max Cooper did reappear, it was as a shadowy presence behind hardware accompanying The Pendleton House modern dance and performance collective, who took center-stage. Cycling though slow choreographed undulations and sexually charged forms of anxiety and pleasure, their amassed physicality played off and against Cooper's more astringent and rhythm-less DSP lacerations. Their bodies covered head-to-toe as though white video screens, ebbing in tide as the soundwork would take on more placid waves of ambiance and richer tonality. A striking stylistic and content shift from Cooper's Emergence set of the night before, it is collaborative performance opportunities like that give reason for artists having multiple sets with which to explore the less seen facets of their creative output. On this evidence Max Cooper is not only producing work down unexpected avenues in abundance, but of striking diversity and quality.
Optical 3 launched almost immediately upon the close of Cooper's set, requiring some city traversing speed to make it back to the environs of the third floor of the EMP performance space. Demdike Stare's Italian Giallo and European sci-fi inspired post-industrial menace both seemed a stark contrast and at once complimentary to the austere science fiction museum fixtures of the EMP's corridors. Sean Canty and Miles Whittaker's set evolved as a series of increasingly threatening, unabashedly industrial klang-und-sturm of low-end and body impacting bass pulses. Their legendary personal cinema collection flickering images nightmarish, erotic, psychedelic and occult, filling the space with its sinister glow. Comprising of all new material, their too-brief hour on stage suggests a unrelenting and more willfully driving, percussive new album in the works.
Slipping directly into the warmer tonalities of Andy Stott's spatially defocused techno, the aural ecosystem of its enveloping miasmah was a welcome shift after the predatory pursuit of Demdike. Comprising of retooled material from his astounding We Stay Together and more recent Luxury Problems, the frayed and weather-worn melodies and distorted bass drops acted as a counterpoint to his implosive body resonating beats. As with previous sets, Stott's rhythmic punctuation became increasingly defined, arriving as he does at his own mutated take on breaks and jungle by the set's end. That his abstracted take on spacial minimal techno would arrive at jungle was baffling at festivals past, here, as the lead-in to his own collaborative project with Demdike's Miles Whittaker, there could be no better segue. Establishing that what was to be their own reclaiming of jungle's percussive assault within minutes of taking the stage, my ears were at a point of exhaustion and it was with the hope of a stylistic breather that Uwe Schmidt's AtomTM was sought out in the adjacent Skychurch.
Arriving a few minutes into the launch of his performance, Uwe was well into his retro-futurist ASCII art filling the stories-tall projection screen. Reacting in realtime to the crispness of the electro-tech production his most recent releases on Raster-Noton have showcased, his 'HD/AV' performances ride a technical, smartly absurd and playful futurist groove. A meeting of man, machine, software, hardware, image, construct, theory and person, Schmidt has evolved to become a one-man Kraftwerk for the 21st Century. The concerns about ear fatigue soon passed and it was time to head back upstairs for another dose of the pummeling on offer from Millie & Andrea. A short jaunt back up to Level 3 found matters had escalated even further to the outright muscular and combative, the shuddering masses of the crowd undulating in the dark as they relished the set's pummeling close.
Approaching the cusp of an evening's endurance and physical pain/pleasure threshold, it was a queasily surreal final series of sights and sounds to behold Daniel Lopatin's Oneohtrix Point Never subsuming the Skychurch. The massive LED screen again put to almost hallucinatory use as discomfiting computer generated images were mauled from their mundane origins into oblique shapes matching the queasy tonalities of Lopatin's granular synthesis and synth work. The decrepit early internet age imagery and themes of Nate Boyce's video art building a narrative of alternate technological history around themes Lopatin's sickness of sound seems to revolve. By no means the end of the night, this mass of mutated sound and image marked my personal point of departure from the festival. The hope was to push on through to the Dubscured afterhours (featuring anticipated sets by Recondite, Fluxion and Tomas Jirku at 6am), but physical endurance was flagging and the knowledge there were three more days to come weighed heavily. Again finding no amount of excruciating deliberation can make the body comply, sadly.
©
Words by Jefferson Petrey for Headphone Commute