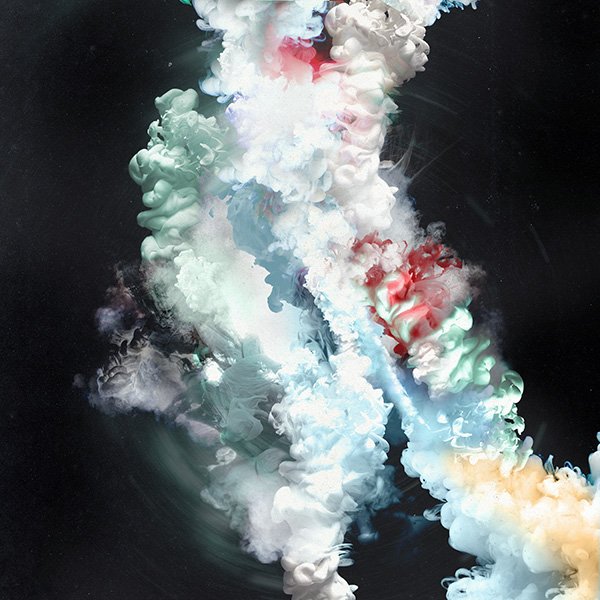 With Dream Tempest, Dennis Huddleston is looking to take his very successful musical project, 36 (pronounced 'three-six'), into some new territory. The five previous albums, Hypersona (2009), Memories In Widescreen (2010), Hollow (2010), Lithea (2012) and Shadow Play (2013) all self-released by Huddleston on his very own 3six Recordings, ended up on Headphone Commute's heavy rotation, with many appearing on our Best of the Year lists (see our Music For Capricious Souls Adrift In Noir-fi category). So we're excited that he's back with a new release, even if it's "the most optimistic" of his past works.
The last thing that fans of his earlier releases would want to lose is that "glowing melancholy" [see a quote below from Huddleston], and they will find it on Dream Tempest, especially on tracks like 'Tired' and 'Entropy'. But one need go no further than the arpeggio synthesizer runs and the buzzing swells of distortion on the very first title track to realize that the new album is painted with a more vivid palette and on a wider canvas than its predecessors. Here's what Huddleston says about the album:
"Dream Tempest is my 6th studio album. It's probably the most optimistic of all the works I have made. It still has that glowing melancholy I just can't seem to shake from my music, but in a very different way to the pitch-black isolation of Lithea. I wanted it to be inspirational as well as downcast; playful as well as moody. I don't want to write music that is discarded when the next big trend or genre blows up. I want to create something that you can listen to 10-20 years later and still feel a connection to."
The playful element Huddleston mentions is here too, as evidenced by the wobbly, slow motion jazz chords of 'Neon Sunset', the quirky cosmic throwback sound of 'Perfect Numbers', and the music box tones of 'Hyperbox', an especially bright and ear catching track. The music is indeed of brighter aura, with chords in the major scale swirling around the pastel palette. And look at the gorgeous cover art created by Huddleston himself!
It is the inspirational element, however, that ultimately gives Dream Tempest the breadth and depth that make it such an extraordinarily enjoyable album. An outstanding example would be the beautiful 'Sun Riders', which Huddleston released earlier this year as a special EP reflecting his own fascination with the exploration of space he experienced while growing up. 'Redshift' is a melodic drone in a sea of blissful guitar textures, and 'Always', a lush and beautiful ambient piece with a cathartic tsunami of distortion at the zenith of its emotional arc.
Dream Tempest is a feast for the ears and should both please fans of 36 while enjoying the broader reach that he makes into both lighter and darker sonic territories. The variety of moods and styles make the time spent listening to it pass quickly and will likely have you turning on repeat mode. The album is offered in MP3 and FLAC digital formats, as a stand alone CD, and in a specially priced CD bundle which includes Hypersona, Hollow, and Lithea.
©
Words by Brian Housman of Stationary Travels
Additional editorial by HC