Paddy Mulcahy
The Words She Said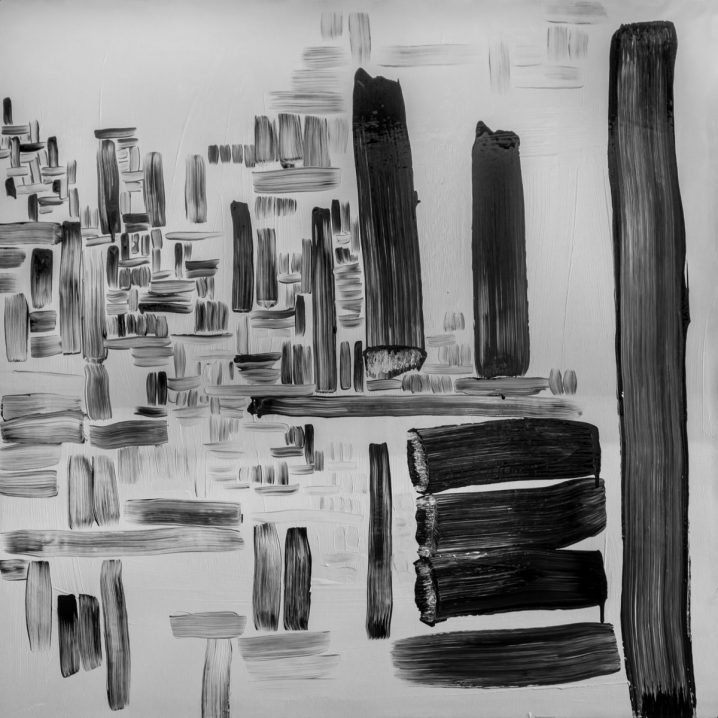 The musical world of modern classical continues to blossom, as the new generation of composers incorporates traditional solo piano pieces with electronic treatments, weaving in elements of synthesized arpeggios, oscillating pads, and acoustic textures. He may not have been the first, but perhaps Nils Frahm opened the door with his live performances of solo piano and Roland's Juno-60, which has inspired countless contemporaries to explore that beautiful marriage, between organic and man-made. On The Words She Said, Limerick-based (Ireland) composer, Paddy Mulcahy, shares his deep emotions through a beautifully crafted journey of the eight pieces, creating an intricate dance between his piano and his synth. "Originally I wanted to uncover what I love so much about the sounds of piano and synthesizer," says Mulcahy about his album, "there is something so beautiful about the raw tones of an analog oscillator… especially the one that that hasn't been tuned in a while!" Perhaps Mulcahy will forgive me for drawing the comparison between his music and that of Frahm's, but there is just something so welcoming and familiar in the soft piano keys, the closely mic'ed hammers, the drifting pitch-bent synth tone, slight echoes of the xylophone, and warm analog bass. And I can't get enough of this sound (while seriously fighting the urge of working on a similar path). The album title itself is conveying a rather sentimental message, possibly nostalgic, melancholy and blue. But the notes on the pieces drift in an uplifting vapor of harmony, carried forth by the strings and modulated signals of the synth. The album is picked up by the very prolific 1631 Recordings, which boasts a catalog of great modern classical releases to keep you busy for some time.
36
Tomorrow's Explorers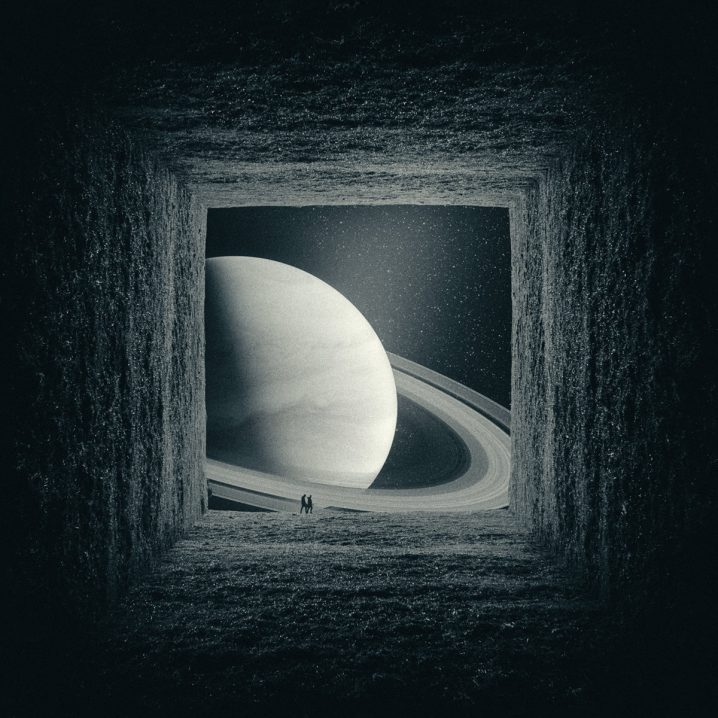 Tomorrow's Explorers is a four-track EP by Dennis Huddleston, recording under the name 36 (pronounced "three six"). As usual, this record is released on his very own 3six Recordings, which this UK producer has been using as an outlet for his works since 2009. My personal introduction to Huddleston's synth-based ambient explorations began with his 2012 album, Lithea, and I've been an avid follower ever since (Headphone Commute's Best of the Year lists can vouch for that). This latest release is actually meant to be a follow-up to the 2015 EP, titled Sine Dust, on which Huddleston explored the "endless themes of space", attributed to interplanetary travel of the future. "There may even be people alive today whose children will be born on a planet that isn't called Earth," writes Huddleston in his album notes. "For them, the concept of 'home' will have a very different meaning to our own. They will be Tomorrow's Explorers, redefining what it means to be human, whilst retaining the very thing that makes us so – our unquenchable thirst to explore the unknown." Tomorrow's Explorers builds up on the concept, introducing organic sounding strings to the already synth pad rich palette. Drowning in the ambient swooshes of the four pieces on the EP, with the climactic conclusion on the last title track, clocking in at thirteen-plus minutes, one can't help but drift through the outer reaches of our universe, mentally exploring the places yet unreached. Gradual transitions, delicate arpeggios, and gliding melodies hypnotize the listener with their warm frequency saturated chords, appealing to the fans of beatless synth music in this future-retro cinematic expansion of sound. A buoyant record to sail with.
Bluetech
The 4 Horsemen Of The Electrocalypse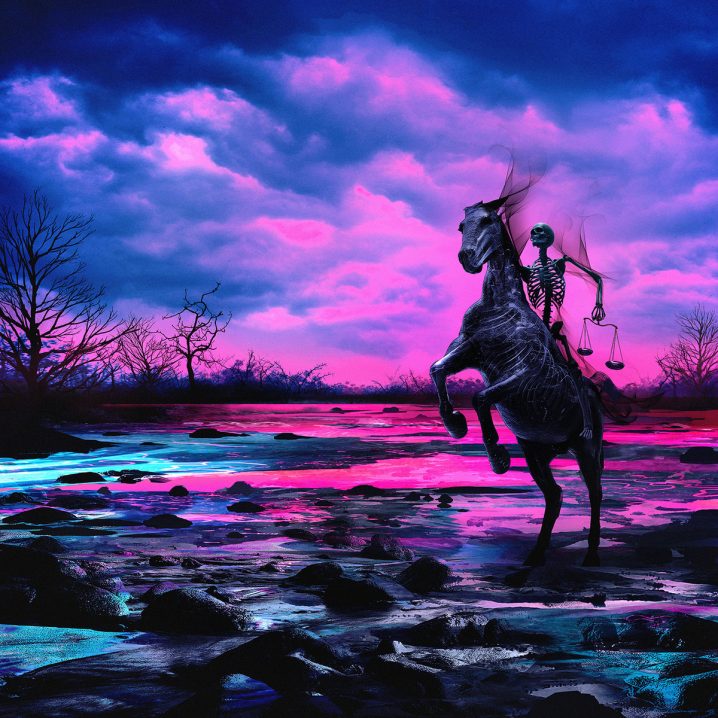 Since we're talking about analog synths, it's only appropriate that I bring to your attention the latest series from Evan Marc Bartholomew, recording under his Bluetech alias. If you've been following Bluetech from his Aleph Zero days back in 2004, then you are familiar with his dubbed out, space-hoppy, downtempo beats; there are also two absolutely gorgeous ambient albums under his real name, released back in 2007 on his very own Somnia label (Secret Entries Into Darkness being one of my all-time favorites). For this series, The 4 Horsemen Of The Electrocalypse, Bluetech treats us to four separate EPs, each named, as expected, after a horse: The White Horse, The Red Horse, and the upcoming Black Horse, each with about 5 tracks, exploring analog and modular-based compositions, landing somewhere between glitchy electro, synthfunk, and melodic IDM. Returning to his roots and love for the analog gear, Bluetech showcases his compositions with Moog modular, Voyager, Oberheim, Prophet 6, Arp, and Elektron Analog Rytm. And one can instantly hear the affection that is poured into every single, intricately produced note. "Emerging from a long period of creative drought and personal struggle, I was seeking a way to frame my own experience in a larger meta-narrative," says Bartholomew, "Navigating through loss and painful transformation always feels apocalyptic, so I wanted to take the opportunity to not only frame my heartbreak in a larger context but also to really laugh at myself and experience the high drama of being human with a sense of humor […] This series of releases is about watching it all burn with a smile, embracing the death of the self as an act of beauty in order to grow. By aligning my own story and our collective story with a prophetic vision of epic proportions, I was able to regain my joy and (en)lighten my life." Looking forward to the final horse!
Caught In The Wake Forever
Under Blankets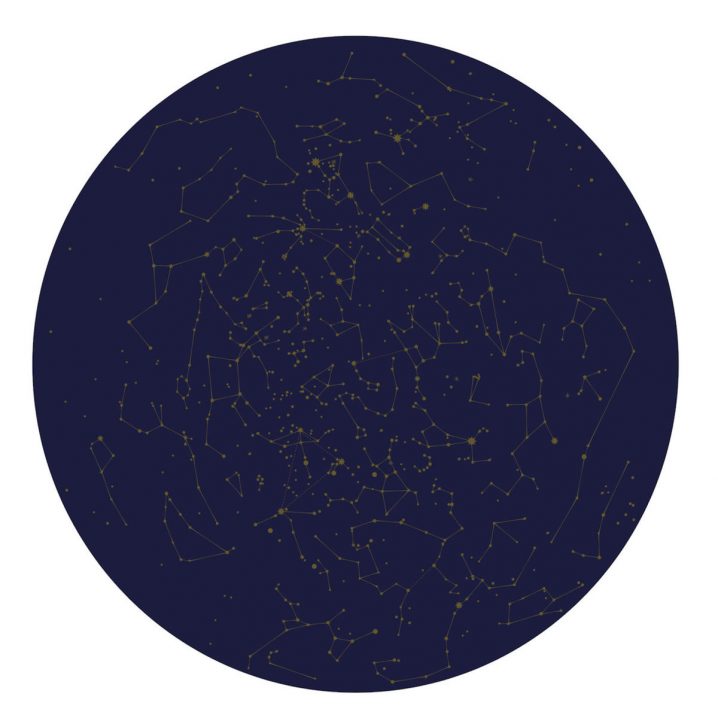 Under Blankets is a single, 40-minute long, frequency-rich, oscillating ambient piece. But unlike some dull drones that lightly press on a gas pedal and keep the velocity at a steady pace, the sound of Under Blankets slowly moves in waves, like a breath of air, or an ocean. Somewhere along the way of its ebb and flow you manage to lose yourself in its grand, ever-expanding, light hue colored, and muted tapestry of sound, but instead of drowning in its deep waters, you simply drift along the way, into the present moment. If there was ever a perfect soundtrack for a meditative sit, walk, or a period of work, then this piece by Fraser McGowan, releasing under the moniker Caught In The Wake Forever, would be a perfect score. In fact, the album notes accompanying this release, quote more than a few of the already familiar themes, since I too practice mindfulness meditation. Here's all you need to know: "Daylight is not completely absent even when we close our eyes to practice meditation – when the sun's out, the light peeks through, bathing the lids in a warm, peach-coloured afterglow, and when the night arrives, the breath provides its own fire for the torch, lighting up those darker areas with awareness and acceptance of the present moment – but behind the blind eye there exists a place of unison, where harmony and clarity converge – an illuminated, all-seeing mind, a kind and compassionate mind radiating peace, and shining as brightly as those stars." Released on the ever-enchanting Fluid Audio imprint, the mini-album description, accompanied by a star map, a vintage astronomy book, and some incense, instructs the listener to consume this long-form piece in a single setting, preferably in a quiet environment, and possibly alone. I have abided many times, and so shall you…