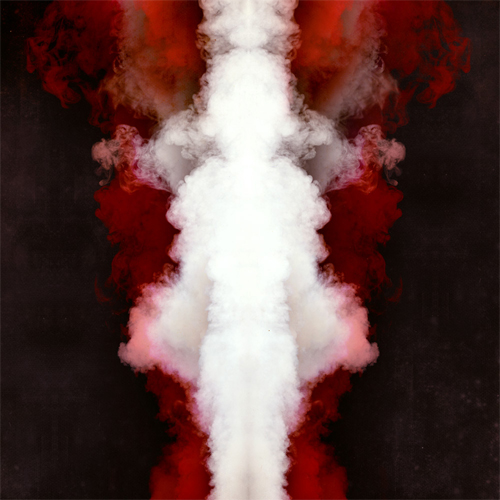 Lithea, released at March 14th, 2012 in limited edition of 200 copies, is already the third full length album and the closing part of triptych album series together with Hypersona (2009) and Hollow (2010) albums. 36 is the project of UK based Dennis Huddleston, who releases his music through his own 3six Recordings label. Unfortunately, I didn't know anything about this extremely talented artist until few weeks ago when Kev of Stormloop pointed rM community to this project. Big shame on me for not locating 36 much earlier, however, it's always better later than never!!! Anyway, it's time to unwrap this beauty.
Visual part of Lithea strikes right away, a very nice matte-laminated 4-panel folded cardboard sleeve case with spine. Funny accented navigation communication between pilot and tower control perfectly introduces the name of the project. Warmly inviting drone with beautifully disturbing hiss on "Cocoon" is absolutely breathtaking, what a prelude!!! Spiralingly euphoric sonic bliss at its most evocative!!! I should mention the album is comprised of no less than 18 tracks, but some of them are rather shorter, transitional passages connecting longer movements.
More minimal, frosty with hints of nostalgia "Susurrus" belongs to the longest pieces on this journey. The title track, "Lithea" hits with its melodramatic intensity, it's a pity it clocks to only two and half minutes. Nostalgic warmness is gracefully floating through rainy "Deluge" with heavenly touch of distant choirs, organic and angelic stunner!!! Glitchy, but restful "Radio" nicely bridges "Deluge" with the next masterpiece, "Reunion". Filled with warmhearted feelings and again enriched by ethereal femme choirs. Gorgeously absorbing!!! Shorter, slightly more experimental "1983" with children's voices brings back long forgotten memories from a childhood. "One" attracts with its deeply imaginative and relaxing dronescape while the following short, "World After April" invades with mysterious voice samples.
Both, mechanically clocking "Seance" and warmly tinkling and drifting "Dreamscape" evoke a very intense and intimate moments. "Dayasan" keeps its enchanting quality while colored by hissy atmospheres and distant voices. Bridging "Broken Toy" is by far the most experimental piece here. Now it's the time to enter the darker terrains with "Leviathan" and "Levitate". Deeply mysterious femme voices on "Levitate" soar over the deep dronescapes and reach the shores of purely visualizing sonic paradise!!! Glitchy drone ambiance of "Saphron" follows the footsteps of "Levitate" with choirs of angelic beauty. Nearly 11 minutes long epilogue "Another World" is the next peak of "Lithea" with its slowly evolving, intense and evocative euphoria, peppered with factory-like clocking sounds. A truly grandiose finale!!!
Lithea is loaded with magical beauty and emotional richness, and it captures the true essence of nostalgia, intimacy and warmness in each of the 18 tracks!!! An ultimate masterwork deserving my highest recommendation!!! Bravissimo, Dennis!!!
©
Review by Richard Gürtler (Apr 07, 2012, Bratislava, Slovakia)