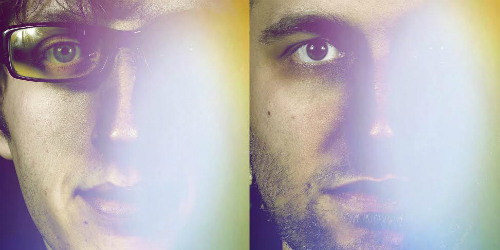 Editor's Note: all answers furnished by Mirza Ramic
You took a long hiatus and some of us feared you weren't coming back. What made you decide to return to recording at this time?
In 2012 we went through many life changes. Both of us started Master's programs (in non-music related fields), which made it difficult to focus on music. We decided to step back from Arms and Sleepers and focus on our academic life full-time. However, we soon realized that A/A/S is an important part of who we are, and that we should work harder to not give up music. Though our "hiatus" lasted for only a couple of months, it was a very critical period as it helped us understand a bit deeper the personal importance of A/A/S.
Your group's warm ambient tones are unlike anything I've heard before. How do you conceive of your compositions, and how are arrangements usually fleshed out in the studio?
Many songs begin with inspiration that comes from watching an exceptional, touching film. Visual art tends to have a strong impact on us, and usually translates into music-writing. In the studio, which is a small home studio that's really more just a bedroom, things will usually get started with a beat, but this really depends on what type of music we are working on. Sometimes new compositions will start on the acoustic guitar, even though we don't have much guitar on our songs, other times on a Rhodes. We also have a Yamaha CP70 which is a good place to start with initial, rough ideas. But often it's the beat that dominates, which is done in Reason, and then parts are added to that. It really does vary a lot, and depends on what kind of mood we are in personally. Dark rainy days tend to result in more experimenting with pianos and acoustic instruments, while sunnier days are more about music software. But it's different every time. Our arsenal also includes glockenspiels, toy pianos, analog synths, omnichords, melodicas, accordions, and other fun little instruments like that.
What most influences your creative process?
This is constantly changing because we are constantly changing as people. Films have always been very inspiring for us, especially independent cinema and in particular works of Pedro Almodovar. Recently, we've been quite influenced by the TV show Miami Vice (who can escape Don Johnson's sexy voice?). But other things have a strong impact on us as well, from museums to art exhibitions to literature to people to random personal experiences. As is probably true for many people, those special, inspiring moments tend to be utterly unpredictable and can come from pretty much anywhere.
What equipment do you most value for recording?
Logic, Reason, and Apogee Duet.
Tell us about the conception of your new album. How is it going, and are there any stylistic similarities to your past work?
Our forthcoming full-length album will be quite different from our previous releases. As already mentioned, the new material has very much been inspired by the TV show Miami Vice, as well as the beats of J Dilla. It's a new direction for us, and we're thrilled about that. Playing the same kind of music always gets boring for us – so, our output is continually changing, evolving, and moving forward. This is especially true with the upcoming release – hopefully the new tunes will resonate with our listeners. The first single, 'Hurry Slowly', was just released and is streaming via our SoundCloud page.
Can fans look forward to a tour behind this release?
We'll be touring throughout 2014 in support of new music. We (well, only me as I was touring solo) just completed a European tour this month. There are several shows scheduled for April as well, with an appearance at Dunk! Festival in Belgium and a couple of performances with the band Ef. We'll also be playing as part of the Off Plus Camera Independent Film Festival in Krakow, Poland in early May, and a full Eastern European tour in June including an appearance at Electric Castle Festival in Romania (with Thievery Corporation, Bonobo, and others). Full tour dates can be found here.
©
Interview by Elizabeth Klisiewicz for Headphone Commute