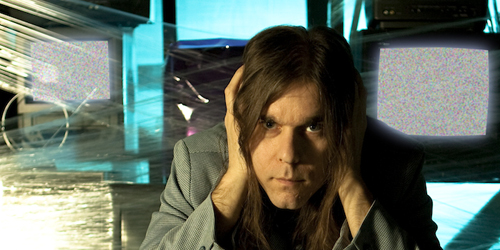 Hi Graham. How did you meet Richard Linklater and eventually became involved with the project?
In Austin everyone calls him Rick and I met him in bits and pieces over the years. Once you're working in music, theater, and film here it becomes a pretty small town and we inevitably ran into each other. He first asked me to work on a short featuring Speed Levitch called "Live From Shiva's Dance Floor". It was a simple piano score and seemed to work as an unofficial audition. Next up was the full rotoscoped feature "A Scanner Darkly" and we've been working on projects ever since. When "Before Midnight" came up it was unclear whether it would need any score at all. The first two films didn't have score and worked perfectly well without it. But in the end, he decided we should try it and I got to work.
The soundtrack (and the film) features a lot of Greek themes. You were born in Frankfurt, Germany and are now in Austin, Texas – how did you traverse the geographical boundaries and implement them in the score?
My dad was in the U.S. Army and stationed in Germany. I moved to the states as an infant so whatever German roots I have are subtle. We went very light on the Greek elements and decided not to use any regional instruments. The cinematography is beautiful and the landscape speaks for itself and we didn't want to hit it too hard. When we wanted the Greek music to be overt we placed actual Greek music in.
So how did you go about selecting specific traditional Greek pieces which are included on the soundtrack?
Rick came back from shooting in Greece with a CD full of songs people had given him. Favorites from that collection ended up being the placed music.
Talk a little about the process of composition for this specific film.
The first part of the process was to come up with a theme. So I watched an early cut and started composing. I turned in five ideas, Rick and editor Sandra Adair listened to them, and she reported back which was his favorite. Each cue is a variation on that theme so we were off and running. Instrumentation was keep simple, we wanted the music to have a light touch. Piano and guitar supported by a bit of bass and vibraphone.
The film revolves around conversations about life and the meaning of it. How would you say music in general can add to this topic of discussion?
Very delicately. The music in the film is not invisible, you do hear it, but that's because it rarely underscores dialogue. It serves as a frame for the discussion rather than a driver of it.
And what about your particular journey through life with music? How has it shaped the world around you and made you the person you are today?
That's a huge question! Music dominates my life and I'm involved with it deeply every day. On the other hand I am passionate about a lot of subjects and I easily could have had a different career. What it came down to was my teachers. Up until college my most gifted, giving, and inspiring teachers were consistently my music teachers, both in public school and in private lessons. That's how I ended up in music. Had my best teachers been scientists I'm sure that's what I would have become.
You mentioned that you usually have multiple projects going on at the same time. What are you working on right now?
All sorts of things. Another Linklater project, plus a play with songs by the Rude Mechs going to the Lincoln Center next year, also a dance piece featuring the lineman and trucks of Austin Energy power compnany with Forklift Danceworks, and finally a multi-year commission from Ballroom Marfa in West Texas which starts with a country music suite for a 13-piece western swing band, a solo layered piano site specific performance, and a Tex-Mex chamber opera set on the US-Mexico border. Quite a few other things really. I like to keep busy.
Read Headphone Commute review of Before Midnight OST