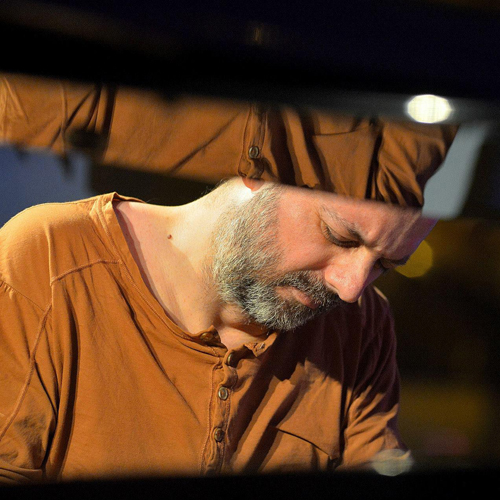 Hey Fabrizio, how are you doing? Anything fun going on in your town this weekend?
I am doing fine! I just had a relaxing weekend with my family. There was a nice festival in Mantua, a sort of "New – Age" themed stuff with yoga, music and a lot of people with good food and wine. They never miss in the place I live!
What is your particular music background? Did you study classical composition?
I don't remember a single day in my life without music, played, listened or even imagined. I started learning piano when I was 6, then at 8 I began studying classical music. After that, I went to the Academy here in Mantua, completing five years out of 10. Then I made some friends and we put a band together: we wanted to be famous and we played some kind of hard/prog/rock inspired by '70s classics (Genesis, Pink Floyd, Emerson, Lake and Palmer). From there on, I played all kind of music. Strangely enough, I also was the lead singer in a Pantera's tribute band! It was only at the age of 34 that I came back to my first love: the piano.
I've definitely noticed the progression in your sound throughout the years. How do you think you have evolved as an artist?
I think that progression in sound goes together with evolution in life. See, every artist is (or should be…!) so worried about not being repetitive in composing – the point is that living life and making experiences always gives you back something: the difficult part is being in the flow and let this precious feedback get out from your fingers. So the key is trying to live in the present, being centered and bring this balance while composing, at least, this is my way.
How did you meet the artist London-DC? Tell us about your collaboration on "Now".
Using electronics in my music is something that I've started thinking since I wrote "Still Travelling", the delayed piano piece included in my Fragments Found album. That is why my "Week #1" in Autumn Stories opens with a light electronic background. It was a sort of continuity between the last song of Fragments Found and the first of the new album. Last Summer, while surfing SoundCloud, I found some extremely delicate and light electronic music. I checked the artist better and I discovered Davide's sounds. There was something extremely familiar to my ears in the way he was approaching music, so I contacted him and we started collaborating on few tracks. Only after 3 or 4 songs, I asked him if he wanted to be part of my new album.
I'd love to play your pieces myself. What are your thoughts on releasing sheet music to accompany your albums?
I always release sheet music together with my albums and I do that because beside being a composer I am also a musician and when I find something I'd love to play I always check for music scores! Publishing sheet music gives to way of distributing music a totally different perspective: it gives people the possibility to play the music I wrote by putting inside their soul. One of the best thing is when people upload their performance on YouTube using my music scores: I love listening to what my music becomes when played by others' hands.
I'm watching your YouTube live session from Digitube Studio for the fifth time, as I'm writing these questions. Talk about that particular experience.
It was weird! Playing alone in a studio and knowing at the same time that a lot of people were listening, it was really exciting! There's an increasing number of people that ask me when I will be performing at their places: as you know, I still have some difficulties in booking shows on my own, so I decided to make a streaming concert to give them, somehow, the feeling of how it will be, when I will be playing live for them.
What kind of piano do you have at home? Is there a difference in instruments on which you compose vs. make the final recording?
Yes, there's a huge difference! I grew up playing and studying on a Schulze Pollman upright piano and at home I use a Kawai MP8ii, a digital piano with wooden keys and real mallets. I haven't enough room to place a real piano, yet. Final recordings of my records has different pianos, it depends. I've played a Kawai KG3, a Yamaha C3 and a Steinway D Model.
What is a process of your composition? Does it start with melodies in your mind, or sketches on the piano?
It rarely starts with melodies in my mind. It mostly starts with attitude: there are some moments I feel like composing is the only way I can put some pressure out of my body. So, there is a time in which I feel I need to sit down in front of my piano and start playing. In those sessions, ProTools is always ready to record what I played, since almost all my compositions are pure improvisations. Then, it also happens that I write some sketches and refine them later on, but usually I adopt a more instinctive way of composing.
Here's a really bizarre question / statement. In the last few years I noticed that I play 'better' when I'm just a little bit drunk. Is there something about giving up control that allows the fluidity of music to travel through my fingertips? What are your thoughts about that and how do you manage your own nervousness before a live performance?
For me it works at the opposite: I usually try to be in full control when I play live. Before a performance, I usually visualize the sequences I'll be playing and while playing the concert I try to be as much as possible focused on what I am doing and what will become next. I want to make sure I consciously do my best to control every single part of the piano I am playing. So, the best way to win over my own nervousness is trying to be a part of the piece I am playing.
If you could write music for a film, what would be its story and would you be the main character in it?
Ah, this is a difficult question! I suppose it would be something extremely melancholic, but not sad. Melancholy is all but a sad feeling. I would like the story to bring audience the message that if you really want something, it's likely you're going to achieve it, sooner or later (while talking about this, images of the movie Billy Elliot came into my mind, for example).
Who are your favorite contemporary and classical composers?
Beside listening to artists like Ludovico Einaudi, Max Richter and Olafur Arnalds (I love every one of them, each one for his particular way of composing music), I am recently into Greg Haines' music, or Sylvain Chauveau and Brambles. As you can imagine, since Spotify has been made available in Italy, this list is far to be still!
What are you working on right now and what is on your horizon next?
Right now I am trying to bring my music live, as much as possible. After being in Belgium a couple of months ago, I am still looking for European festivals here around and, in the meantime, I've booked a couple of shows in Italy. But bringing my music live is definitely where I am focusing my efforts right now. And, yes, I am already thinking to my new release.
Read Headphone Commute review of Now