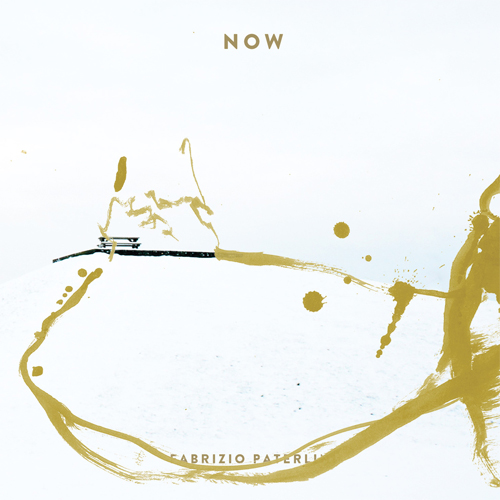 Sometimes inspiration comes in waves. Sometimes it doesn't come at all. More than often, it is something that is wished for, but can never be forced. In fact, there is an equal force pushing back at your entire being if you try to squeeze a little of it out. And although there is no sure cure for a dry well of ideas, motivation or a simple writer's block, at least there is quick bump that may get you going. This catalyst for inspiration comes in a form of music. At least for me it does. And this particular album, appropriately titled, Now, by Fabrizio Paterlini is what usually compels me get up and out of my chair, walk over to my piano, and begin to play…
The thirteen short sketches on the album are all carefully curated with just a sprinkle of electronics and post-processing effects, while Paterlini's gorgeous piano playing is in the foreground of each piece. Adding strings as an accompaniment gives the music that regal feeling to which the melancholy tightly clings. The particular close placement of the microphones to the instrument captures the intimate environment and brings the music near, revealing multiple intricate details of the performance, from the moving wooden hammers of the piano to the fingertips on its ivory keys. But at the center of each composition is a majestic melody that resonates long after the music fades away…
"It is fitting that composer and pianist Fabrizio Paterlini was born and lives in the ancient northern Italian city of Mantua. A romantic and historically significant centre of musical and artistic excellence, the city's elegance and cultural depth permeate Paterlini's exquisite original solo piano compositions."
I've been following Paterlini's music and watching him slowly evolve over a course of three years now, previously singing praise to his self-released Fragments Found (2010) and Autumn Stories (2012). In fact, I loved his last album so much that I invited him to contribute a piece to my benefit compilation, …and darkness came, which even appears on Now as a bonus track. For this album, Paterlini once again goes the self-publishing route (I suspect that he will soon be snatched up by one of the bigger labels), and takes on a grander pursuit in attention to detail and sonic quality of each piece.
The additional effect processing has been contributed courtesy of an artist only known as London-DC, whom Paterlini met via Soundcloud and invited to color the piano and the strings. This particular atmospheric treatment is especially haunting on track like "Harmattan", where it approaches almost cinematic quality, which really reminds me of the music by Ólafur Arnalds, Max Richter, and Jóhann Jóhannsson. And I don't drop those names here lightly. If you love the above artists, plus the piano by Dustin O'Halloran, Nils Frahm, and Ludovico Einaudi, you will love the new album by Fabrizio Paterlini. And let the inspiration flow…
Read Headphone Commute Interview with Fabrizio.