It's early on a Sunday morning and I sit down in my studio to go over the latest promos I have received. Sometimes I look around my desk, piled with unopened packages and press releases, scratch my head, and wonder how I'm going to get through all of this, let alone pick out the gems that I want to share. The truth is, I listen to each album at least three or four times before I write about it, and I want to fall in love with each one! And with over a hundred in the queue, I don't know if I'll ever catch up! Oh well, not a bad problem to have, I suppose! Thankfully, I've got this Sound Bytes section, where I can share a few mini-reviews of the music that has recently graced my rotations. Today I'm also helped by Elizabeth Klisiewicz who covers the latest from riverrun, while I dust off submissions from The Boats, Asher, and Fabrizio Paterlini.
riverrun – Pentimento (Saint Cecilia)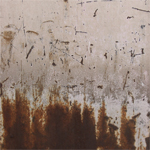 Pentimento from riverrun is an ambient project from Daniel Land (Modern Painters, Engineers) that was stitched together over a decade, revealing itself slowly in dense layers of sound. The project takes its name from the famous opening line of James Joyce's Finnegan's Wake. In artistic terms, pentimento is the reappearance in a painting of an underlying image that has been painted over. Pentimento drenches you in a profound sense of place. Furtive animal and machine noises waft in and out, but they fade away as you continue to move through this release. From small Somerset villages to the Irish seaside, Land has captured snippets and woven them into an impenetrable tapestry, twining places from his childhood with abandoned song fragments. Warm but visceral tones paint images of sailboats, buoys, and empty stretches of sand. Fragile melodies occasionally pierce through the haze and uplift your spirit before diving deep into the musical depths. Fans of Brian Eno, Tim Hecker, and Fennesz will definitely appreciate the exquisite care taken with this painstaking work. Highly recommended. Available as a CD from Big Cartel or digital download from Bandcamp.
Read also Two and a Half Questions with riverrun
The Boats – Sleepy Insect Music (Home Normal / flau)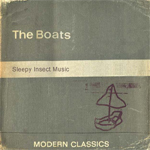 Come on in, but please watch your step. The Boats take you on a journey through their version of the Modern Classics compilation entitled Sleepy Insect Music. With sixteen tracks recorded "at various times and places between 2003-2010", the music fluctuates between purely instrumental modern classical composition to folktronica to lo-fi downtempo pieces to songs with vocals by Chris Stewart and Elaine Reynolds. Sleepy Insect Music is a collaborative release between Ian Hawgood's Home Normal label (read our Label Profile) and Yasuhiko Fukuzono's Tokyo-based flau. Oh, and this time, The Boats duo, originally comprised of Craig Tattersall (aka The Archivist and The Remote Viewer) and Andrew Hargreaves (co-owner of Lacies with his partner Alice), have been joined by the talented Danny Norbury (also a member of Le Lendemain with David Wenngren [aka Library Tapes])! Whew! A lot of name dropping! So we've got quite an artistic gathering here, which cultivates into a wonderful album, as expected. Originally conceived as a companion release to The Boats' tour of Japan, this little gem collects some of the group's past off-shoots, B-sides, and unreleased tracks. As usual, lo-fi electronics, tiny glitchy percussion, and fuzzy samples dominate the minimal compositions, except this time they are complimented by Norbury's singing cello. Recommended for the followers of all of the above mentioned artists. I'm looking forward to more output from this newly revitalized trio!
Asher – Miniatures (Sourdine)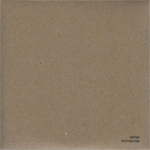 Asher Thar-Nil weaves barely familiar melancholic piano pieces into phrased loops and repetitive passages, spread over a blanket of white fuzzy noise, digital imperfection and analog hiss. Out of an abandoned, distorted and dusty radio, a once forgotten favorite melody slowly drifts and revolves on the peripheral boundaries of hearing, evoking a nostalgic feeling over memories that we never had. Weaving piano loops that fade in and out of silence in twenty six Untitled tracks, split across two volumes of this double-disk album, Asher's limited edition release is an exploration of modern and contemporary classical composition through an entirely different spectrum. Miniatures reminds me a lot of The Caretaker's Theoretically Pure Anterograde Amnesia (V/Vm Test, 2005), in which Jim Kirby explores faded memories and ghostly sounds of our long forgotten songs. Previously collaborating with a variety of artists, Asher has released numerous albums across a roster of experimental and sound art labels, such as Room40, and/OAR, Homophoni, and Leerraum []. Asher's album is excellent as background head cleaner, or a fuzzy silence filler, on buzzing days and rainy nights… Pick this up directly from Sourdine. Fans of William Basinski will surely appreciate!
Fabrizio Paterlini – Fragments Found (self)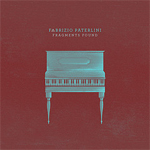 Sometimes the simplest melodies awaken the most evocative of emotions… Listening to neo-classical piano compositions by Fabrizio Paterlini is like being cradled in the depths of nostalgia, holding back the eyes from tearing. It all depends on the current state of mind. And if you are already vulnerable, Paterlini will take you just a bit further. His ten piano pieces, originally recorded and left undisturbed for years, tell a story with a soundtrack to your life. Born in Manuta, Italy, Fabrizio has been playing piano since the age of 6. "When I sit in front of my piano and start playing, melodies come to find me and I immediately record them…" And it feels like some of these pieces are fragments of familiar melodies, heard in movies of your childhood, or perhaps in lullabies of your past. It is not until the second or third rotation of this album, that you realize that the beauty within, is not to be without. Pick up this disk directly from Paterlini or download a digital edition. While you're there, don't forget to grab his 2009 Viandanze, available as a download along with sheet music [something I've been begging other musicians to do!]. Fans of Library Tapes, Max Richter, Hauschka, Peter Broderick and Nils Frahm will absolutely enjoy! Really liked this, and I'm sure that you will too!