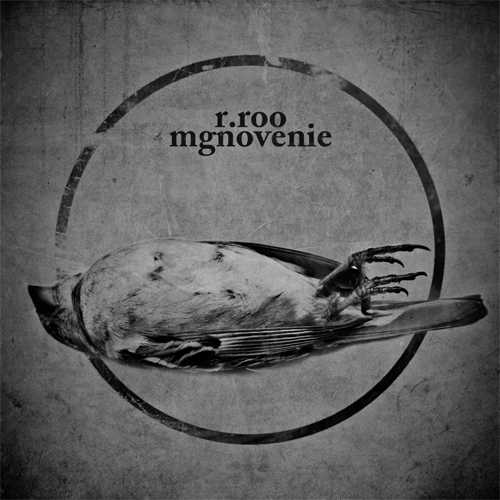 Breathe in… Close your eyes and picture a beautiful land covered in warm pulsing smoke. You must enter this space slowly, while holding your breath. But don't worry, in your dream all oxygen is optional. Only silence is suffocating. Instead put on your headphones and breathe with your ears. Let mgnovenie gradually penetrate your every cell, until its rhythm becomes your heartbeat, until the glitch becomes your synapse, and the bass becomes your step. This is the land where r.roo paints with sounds. Where spastic and electric clicks jump around the skeleton structure which surrounds the crying violin. Where jittery beats propel the piano forward while the smoke recedes by noon. Breathe out…
I've had my eyes on releases from Chicago based Tympanik Audio for almost six years now. This is the label that brought you music by Subheim, Access To Arasaka, Undermathic and Dirk Geiger. Throughout the years the label has established itself as a premier outlet for all of your IDM, dark ambient, and industrial needs – or rather it's a poisonous cocktail of all three of the genres. So it's no surprise that the latest magical potion comes from r.roo.
Shadowed in soulful piano movements, twitches of violin, random static and strange radio voices, accented perfectly by crushing beats and a meticulous stitching of glitchy misfires, 'mgnovenie' (translated as "The Moment") proves itself as the ideal soundtrack for intentional mental defections.
Andrey Rugaroo is a Kiev (Ukraine) based electronic musician with a handful of (mostly) digital releases on labels such as Abstract Reflections, Raumklang Music and Someone Records. His fifth full-lentgh, mgnovenie, is a digital release as well, with a compact disk being pressed by popular demand. The production on the album is exceptional – and it's not just the DSP heavy processing which should satisfy all of the glitch heads. It's also the lovely melodic progressions that float in atmospheric ether, and never let go. Of course the strings and piano only add the cinematic quality for which the above mentioned artists from Tympanik are already known.
If you're new to the label, may I recommend you start with its compilations, especially the latest digital release, Accretion and then traverse the Emerging Organisms volumes. Meanwhile, this past weekend I've been listening to the debut release from the latest signing, Atiq & EnK. Also, stay tuned for a followup release from r.roo titled Innerheaven hitting the streets in 2013.