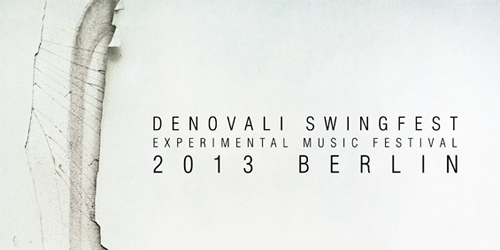 On Friday, April 5th 2013, a Bochum (Germany) based Denovali label will kick off its two-day festival in Berlin. This would be the very first time that I'm personally traveling out of the country to attend a music festival abroad [everyone knows that Canada does not count 🙂 ]. And I'm flying to Germany just for the two day weekend event! The Berlin edition will showcase only ten acts, but as you'll read the roster you will not be surprised why I'd make such an effort. Launched in 2007, Denovali has been curating its experimental music Swingfest festival showcasing its label roster and various contemporary acts.
A hallmark of the festival is the renunciation of the headliner principle: all artists are receiving the same attention – the length of each artist's concert is equal. 
On Friday, the festival will kick off with The Kilimanjaro Darkjazz Ensemble, followed by Hidden Orchestra, Bersarin Quartett and Carlos Cipa. The original first act was supposed to be the Portico Quartet, but the performance was canceled and replaced with The Kilimanjaro Darkjazz Ensemble! I think it's needless to say that I'm not terribly upset about this change – TKDE have been long on my list of bands to see live! And pairing them with the Hidden Orchestra and Bersarin Quartett is like a carefully thought out prix fixe meal prepared by the top chef in multiple installments! The Friday event will be held at the RADIALSYSTEM V.
On Saturday the festival will open with Ulrich Schnauss + Nat Urazmetova visuals, followed by Tim Hecker, Poppy Ackroyd, Thomas Köner, The Alvaret Ensemble, and Field Rotation. Wow – eight hours of music in one sitting at the PASSIONSKIRCHE, a 20th century church in Berlin's city center! I can already hear the stained glass shattering onslaught of Tim Hecker's guitar and the pew vibrations from the deep drones by Thomas Köner. Perhaps I should bring a pillow (and yes, a decent pair of earplugs). Let's hope I won't be fatigued too much, as I plan on heading out to either Tresor or Berghain (if the famous bouncer will let me in), when the show ends at 23:00.
The only thing that could possibly top off the weekend festival is its paired showcase taking place in London only two weeks later, on April 20th, 2013. The British edition boasts performances by Andy Stott, Bersarin Quartett, Fennesz, maybeshewill, Omega Massif, Petrels, The Pirate Ship Quintet, William Basinski, Poppy Ackroyd, Thomas Köner, Greg Haines, James Blackshaw, Carlos Cipa and Talvihorros. Wow! You know that if I could attend both, I definitely would! Alas, a weekend in Berlin is already something I'm really looking forward to. Perhaps I'll see you there!