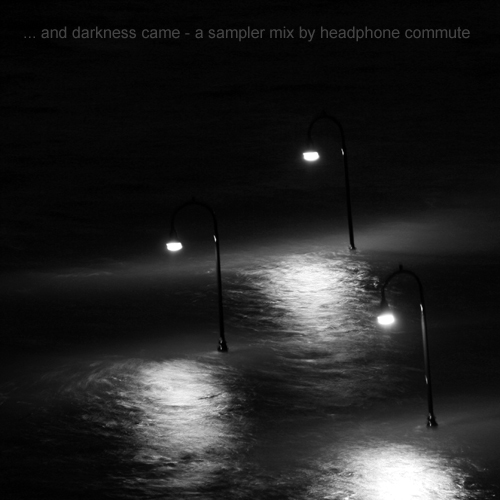 I am getting extremely excited (and a little bit nervous) about Headphone Commute's benefit compilation, … and darkness came. The release date has been announced as December 10th, and in just a week you shall be able to finally experience this incredible lineup featuring the world's top talent in ambient, modern classical and experimental music. But boasting aside, I wanted to take some time and actually showcase the diverse sonic landscape of music offered on the compilation by making this sampler mix, featuring just a handful of tracks from the release!
True, I've talked about the issues with too much music or box-set releases that may overwhelm the listener. Yet, here I am, dropping upon you almost six hours of music! But for just $10 USD I want you to purchase this beauty without a single hesitation in your mind! And then I want you to give just a little bit more! And then I want you to tell your friends! Let's introduce the world to this gorgeous music, while raising money for a humanitarian cause. Remember, 100% of proceeds will be donated towards charitable organizations. It's a win-win, really!
True, there have been many other large-scale disasters all over the world, so why is it only the ones that affect ourselves that should inspire us to help the needy. Perhaps there is no answer to that question. Perhaps something like this needs to happen to a larger nation in order for the rest to wake up – they'll holler that much louder. That is why I've selected Doctors Without Borders and The Humane Society, as the recipients of the donation, so that all their global deeds can benefit from what we've come together to do.
Thank you!
~HC
Tracklisting
01. Gen Ken Montgomery – Sandy Drain
02. The Frozen Vaults – A Year Without Summer
03. Clem Leek – A Modern Hymn For NYC
04. Good Weather For An Airstrike – Fred's Song
05. riverrun – Maallinen Kuu
06. Roel Funcken – Trideo Vaperz
07. Pinkcourtesyphone – pixels came and broke your heart
08. Julien Neto – Los Cien Enamorados
09. Jóhann Jóhannsson – Melodia (iv) (Live at Ancienne Belgique)
10. Nils Frahm – Sol
11. Ólafur Anralds – Tomorrow's Song
12. Dustin O'Halloran – Fragile N.2
13. Clint Mansell – Merry Christmas (It's The End Of The World)
14. Somatic Responses – Fear Chasing Hope (Zombie Subway HC Edit)
15. SaffronKeira – Endless Agony of Being Sick (Edit)
16. Valgeir Sigurðsson – Big Reveal
17. Dakota Suite – Now I Am Lost
18. Ben Lukas Boysen – 16°
[ S T R E A M ] | [ D O W N L O A D ] | [ P O D C A S T ] | [ i T U N E S ]