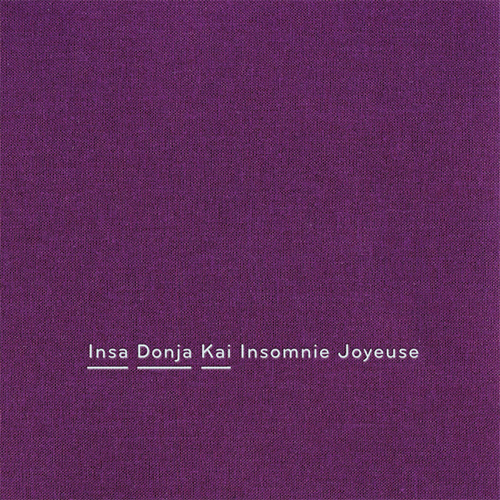 Yesterday morning I woke up in a bad mood. As I was pouring my coffee, I realized that the prior night's company gathering at a local bar ended up being longer than expected. I realized that I drank just a little too much. And most importantly, I realized that I missed a live performance by Zoe Keating at New York's (Le) Poisson Rouge. Damn it! And now I'm in desperate need of my cello fix! The good news, is that I also realized that I have an album to tell you about from a newly formed trio, Insa Donja Kai. Although the group began recording together late in February of 2011, the three performers are veteran musicians, and have appeared live and on recorded pieces by Hauschka – see Room To Expand (130701, 2007), Ferndorf (130701, 2008), Snowflakes & Car Wrecks (FatCat, 2009) and others.
On Insomnie Joyeuse, the group's first full length release on Sonic Pieces, we find Insa Schirmer and Donja Djember on two cellos, and Kai Angermann on percussion (think vibraphone and other resonating vibrations). The pieces move from simple and abstract etudes to haunting cinematic melancholia. The recording is dry and unaffected, and the two cellos cut through the silence with every audible noise, separated by the stereo field and negative space of percussion. The raspy shuffling sounds at times give me goosebumps, as some rosin-free frictionless bowing often does. But then the cellos cry, soaring through the melodies, tugging at the strings. The percussion fills in the void, sometimes adding a structure, others the reverberated vibration of a suspended crash cymbal (and many other idiophones I can not name).
Fans of modern classical, neo classical, and contemporary chamber genres need to immediately pick up the record, as it will move, impress and delight followers of Nico Muhly, Hildur Guðnadóttir, Greg Haines, Aaron Martin, Richard Skelton, Peter Gregson, Olan Mill, and of course, Hauschka. Meanwhile, a quick word about Sonic Pieces. The Berlin based label, run and operated by Monique Recknagel, has been consistently releasing quality records for the five years, inevitably landing on our Best of the Year lists every single time [as I'm sure will be no exception this year]. Besides Dictaphone's Poems From A Rooftop and Moon Ate The Dark's self titled release this year, I'm also incredibly excited about the upcoming limited 7″ record from Otto A Totland and Erik K Skodvin. And you should be too!