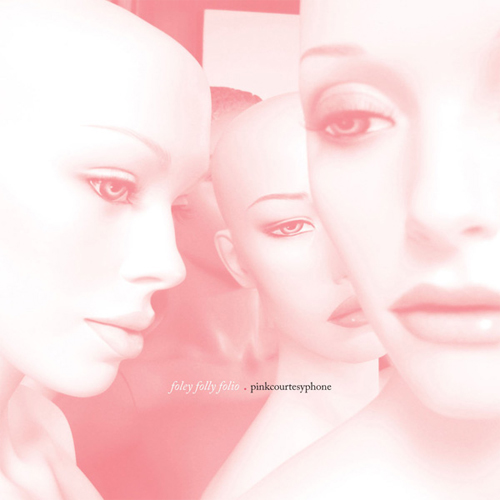 Dear diary, Richard Chartier went off and made a seductive record, under his newly refurbished moniker, Pinkcourtesyphone. Chartier, of course, is a master of minimalism, known throughout the world for his sound installations and recordings on labels such as Raster-Noton, Die Stadt, Spekk, Room40, 12k, and his very own LINE. But this release appears to be a foray into a new territory that Chartier means to explore as a "tongue in cheek response to certain types of music… especially the type that takes itself incredibly seriously." He even released the album on what appears to be a mysterious sub-label: LINE [SEGMENTS].
Unlike his past resonant microsound works, Foley Folly Folio begins with a hauntingly beautiful ambient piece, which after its five and a half-minute mark drops off into a ghostly echo of a forgotten place, exploring dying media and remnants of an aural presence. The sound eventually disintegrates into its digital counterparts made up of frequencies and bits, until it's nothing but a barely audible hum of analog equipment, dark soundscapes, and reductionist atmospherics. Ah… there you are, Chartier…
Pinkcourtesyphone is dark but not arch, with a slight hint of humor. Pinkcourtesyphone is amorphous, changing, and slipping in and out of consciousness. Pinkcourtesyphone desires to capture the sonic essence of some nicely dressed 1960′s housewife wistfully peering out her window while reclining on some lovely couch or divan, with, of course, a slowly sipped cocktail and perhaps half of a Valium. Perhaps she is waiting for the phone to ring.
Throughout the album Chartier explores this detached existence of suburban glamor, picked from the bits and pieces recorded during various years: 1997, 2004, and 2011. Drenched in pink hues of plastic mannequins, I can almost sence the presence of romanticism projected through the mind of a housewife [picture Betty Draper from Mad Men] , drowning in her FDA approved drug-infused haze. Perhaps she's watching Oprah, or reading 50 Shades of Grey. But something dark and empty is hibernating behind her glass eyeballs. And as I catch a glimpse of dirt beneath her perfectly polished fingernails, a sense of coldness and unease descends upon this clinic scene.
Although this is indeed a debut album for Pinkcourtesyphone project, Chartier used the alias on occasion as his DJ name since 1991, playing at FILLER, Mies, and Procedure nights in his hometown, Washington DC. Perhaps serving an aperitif of avant-garde textural sounds is what inspired Chartier to release Foley Folly Folio on his LINE imprint. Whatever the reasons – I'm happy to share the "most wonderful night of my life" in the company of my favorite minimalist artist, especially if he's mixing up a delicious cocktail. Be sure to check out a follow-up release, Elegant & Detached, already picked up and released by Room40. Highly recommended for fans of The Caretaker, William Basinski, Black Swan, and Stephan Mathieu.
Be sure to read our Interview with Pinkcourtesyphone