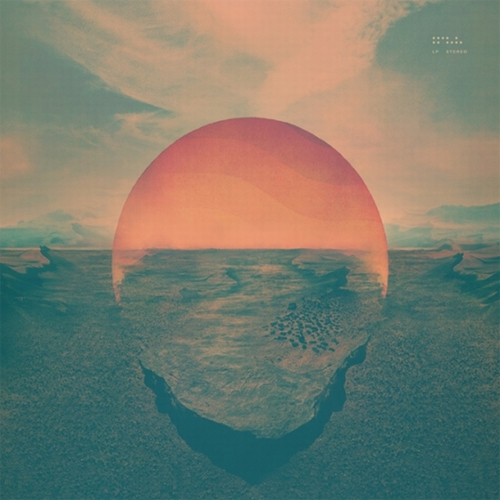 Imagine yourself riding through the country in your brand new convertible on a summer day… Imagine drifting above the stretching fields following the sunset towards the horizon with warm wind in your hair… Imagine floating above the clouds, climbing to the heights where the air is thin, and then diving off the coast towards the salty ocean… These are the images and feelings that are evoked when listening to Dive, Scott Hansen's latest studio album as Tycho released on the remarkable Ann Arbor based (Michigan, USA) Ghostly International.
Hansen first came onto the scene with his 2004 release on Gammaphone, Sunrise Projector. In 2006, he got picked up by the now defunct and dearly missed Merck, where Tycho gained critical acclaim with the expanded version of Sunrise Projector, published as Past Is Prologue. When Merck closed its doors in January 2007, Hansen was one of those musicians looking for a new home. He immediately found Ghostly International to be suitable for his sound with a digital release, The Daydream / The Disconnect. In 2009, Hansen teased us with a Coastal Brake EP on Ghostly, and finally unleashed Dive – a collection of floating melodies, uplifting beats, and dreamy vocals.
Many thoughts and memories well up when listening to Dive. I immediately flashback to the days of electronica when lush textures, warm layers, and upbeat rhythms accompanied me on many occasions. Hansen hints on elements of time in his compositions:
"Nostalgia is a common thread in my work, but this album wasn't driven by that idea. I see these songs as artifacts from a future which might have more in common with our past than our present."
It's nearly impossible to avoid comparisons of Dive to the sonic fields of Boards of Canada, synth soundscapes of Ulrich Schnauss, lounging head nodding of Bibio, childhood longing of M83, and mnemonic washes of Telefon Tel Aviv. Known in the graphic design world as ISO50, Hansen paints his auditory canvas with sun drenched colors and earthy tones. With nearly effortless yet flawless execution, Hansen justifies the long wait, and delivers one of our favorite albums of the year – featured in Headphone Commute's Best of 2011 : Music For Missed Friends, Barbecues And Turntables.