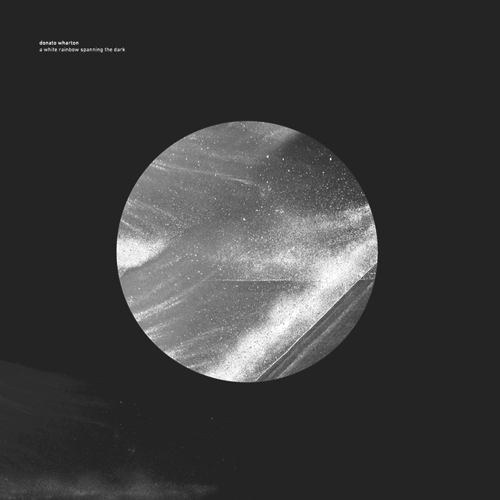 Does the sad, minimal, and drony music compliments the rain, or does the wet, dark, and windy morning makes that music so much better? These are some of the thoughts on my mind during my rainy commute, as the scratching little noises of Donato Wharton's guitar, floating synth ambiance, and seemingly random lo-fi acoustic frequencies occupy my head-space. I suppose that the title of this strictly limited edition 10″ vinyl EP on Serein, A White Rainbow Spanning The Dark, doesn't help in my quest in concrete separation between the sound and unfolding reality – both are one and the same.
"By pushing the limits of his tools of creation, primarily guitar and field recordings, Donato introduces swathes of noise into his compositions, shaping it as a sculptor chisels stone to form topographies of often rugged terrains, blustery, cold and unforgiving."
In just six tracks, London-based Donato Wharton confirms his creative composition and production skills, lauded from the previous releases on City Centre Offices: Trabanten (2004) and Body Isolations (2006). Centered around the theme of his recent travels as a sound designer for stage and theater productions, Wharton weaves sonic textures of desolate lands. vast soundscapes, and 'elemental environments'. Although Wharton's traversal through time and space from one destination to another is the main inspiration behind the music, I hear a stronger message percolating through sound – that sense of mere being, existence, and oneness with that space. Track titles such as "A Vast White Solitude", "In A Mute Scape", and "Breath Held" only confirm my suspicion of Wharton's reflections on presence, contemplation, and silence.
A White Rainbow Spanning The Dark is the second entry in the label's Seasons 10″ series, which we continue to cover in our Serein Label Special throughout this week. Recommended if you like Fennesz, Machinefabriek, Tim Hecker, and Lawrence English.