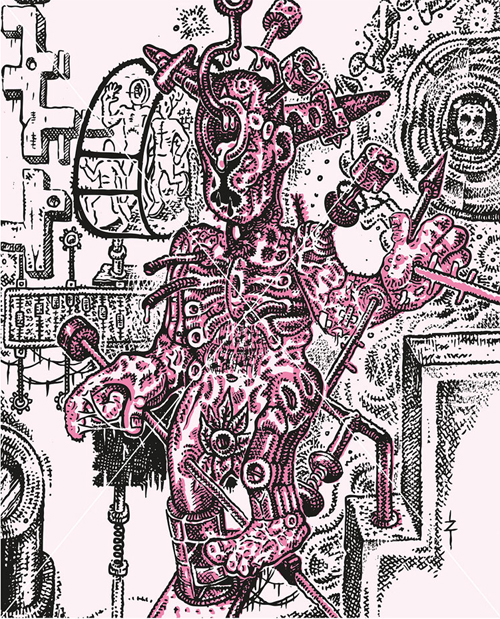 This past Saturday night was my third time at New York City's Le Poisson Rouge – second to check out a dubstep show (on July 18th, I saw a live performance by Darkstar). What can I say? I definitely dig the venue. From its laid back style with dedicated staff to good selection of drinks (and food), to clean bathrooms and the non-harassing waitresses, the overall experience is very pleasant, even if there's a two-drink minimum to sit in the back (with included gratuity). The stage is of nice size with an equally dominant dance floor. The sound is pretty tight, and although the highs are at times piercing, I find that I can always find a spot to save my ears while treating my bones to deep vibrations.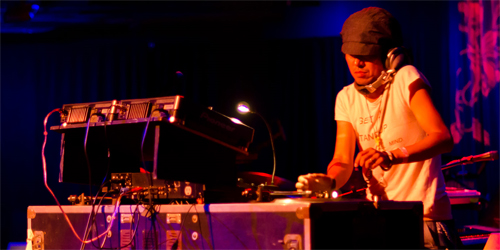 Masashi Nakazawa
On August 20th, Resident Advisor took over the gallery for its 10 year anniversary celebration, featuring a secret headliner to be revealed seconds before the artist takes the stage. The show kicked off with a DJ set by Masashi Nakazawa who threw down an eclectic mix of obscure records, ranging from abstract hip-hop, to Hawtin-esque techno, to stomach churning dub, and early house. The selection was at times pretty bizarre, making my friend Kris, (who came to document the show with the photos featured in this review) think of "sitcom 60s and Vietnam rice paddies music". The night was still young, and at 10pm the dance floor was pretty empty. Come on, New York, where are you? It's Saturday night!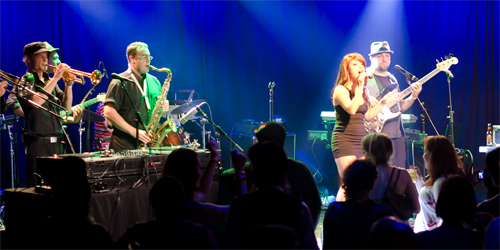 King Sunshine and Miss Maya
Next up was King Sunshine, a Montreal Toronto based nine-piece ensemble that got the house moving with their disco influenced funky jazz. Featuring Toronto pop artist, Maya Killtron (aka Miss Maya) on the mic, the band pulled in the crowd to the dance floor, blending deep house and techno influences into a an organic contemporary dance explosion. The physicality of sound penetrated the moving bodies, and I laughed as the brass instruments tried to compete with power of Maya's voice. Towards the end of King Sunshine's set, Peven Everett joined the band to lay down some of his smooth vocals. The soulful sessions and a few covers brought smiles to many faces, as people reached for their iPhones to take videos, check latest FB updates and send out a Tweet.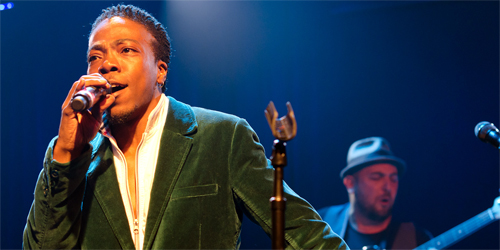 Peven Everett
Finally Mala (one half of Digital Mystikz and part owner of DMZ label) took the stage, dropping vinyl on the turntables and gathering packed clusters of people in front of him. The lights went out, and the deep rumbling bass pushed the thick air with incredible force. Atmosphere became dense – hot air-filled with alcohol infused perspiration, cigarette breath, and intense sounds pressure levels shifted between grinding bodies as they thrust every last bit of oxygen away. High frequency sounds cut through the devious and right down nasty razor-sharp bass screeches, as Mark Lawrence teased the salivating pack with his double rewind torture. "It's about to go off," I heard someone saying during another treacherous rewind episode. "That's Coki's massive tune," said another fan – so these are true followers after all.

Mala
The night ended with the promised super secret headliner, one allocated for each city in the Resident Advisor's ten-party celebration. For New York City, Detroit based legend Theo Parrish graced the crowd with his renowned presence, bringing the late night to a peak and a dance floor to a frenzy. Parrish is also credited with curating the NYC's night's bill. By this time I was getting exhausted, having lost a few pounds of sweat in the process (I hope). The night was a great success – three for three at Le Poisson Rouge. I left the venue in good spirits, looking forward to the upcoming events: The Album Leaf on Sept 28th, Thee Silver Mt. Zion Memorial Orchestra on Oct 6th, and Plaid on Fri, Nov 18th!!!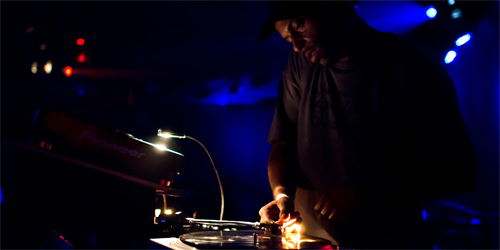 Theo Parrish
©
Exclusive photography by Kristopher Wuollett. Text by HC.