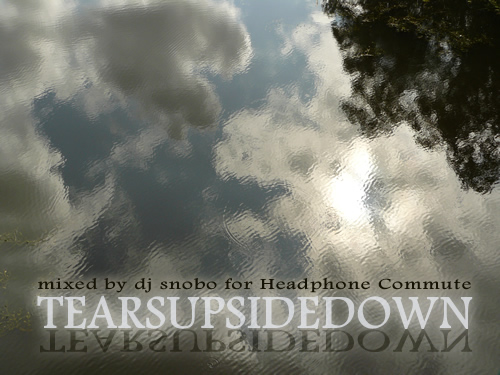 DJ Snobo, a Riga (Latvia) based selector, is back with another mix for Headphone Commute. This mysterious sonic journey through some abstract, leftfield, and obscure selections will surely keep you intrigued. Here is a full explanation from Gosh:
I almost never plan a concept for my mixes in advance – well ok, I can preselect some tracks or decide whether it should be a dance/beatmatched affair, or a freeflow/ambient trip. But normally, I let the tracks play out and allow them to make turns, break rules, change preconceptions and create a story of their own… which I would try to decipher afterwards – by looking at the tracklist, song titles, occasional lyrics and trying to pick out some words that magically match the mood that I had during (or gained as the result of) the mixing session. It's often fun to notice how, say, a combination of song titles can perfectly reflect my feelings at that time or indicate the direction of the selection. That's how I come with a mix title and (sometimes) the concept: it's the aftermath, not the cause.

In this case, the process didn't come easy, as the mood I had on May 1st, 2011 – when I sat down to mix the tracks which finally started begging to be mixed too loud to ignore it – was simultaneously disparate and desperate, and resulted in motley selection ranging from peaceful to alarming. Track titles didn't give me any clue, and I spent quite some time trying to figure out what the hell The Supreme Selecta that moves the faders and directs my hands is trying to tell me… And finally I picked a line from Peter Broderick song, one of the tracks from "How They Are" – the record I lost count of listening to and playing out on every occasion since its release in 2010. Tears turned upside down – it might mean different things for different people, and for me it's not as straightforward as "sunshine after the rain" or a "hope in despair": rather a reflection of somebody else's hope… I might not have it myself, but at least I know it exists, if folks who create heavenly music which gives me a reason to live do.

So here I am – sitting at this pond and looking at the reflection of tears (cried for no one). For me, the Music is that smile that turns them upside down. Your story might be different. And I wish it lasted years.
Be sure to check out Snobo's previous podcast – A Rest From Intention
soundcloud.com/snobo | djsnobo.blogspot.com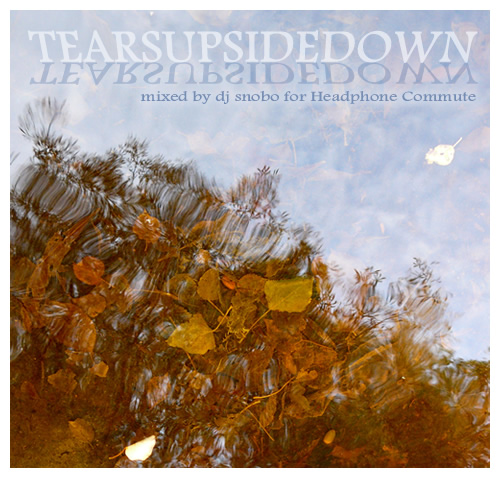 Track Listing: h:mm:ss Artist ▪ Title (Version) ▪ Album (Label)
0:00:00 Gutta Percha ▪ Little House On The Restored Prairie ▪ Tube Overtures (The Land Of)
0:02:04 Piiptsjilling ▪ Unkrûd (Ill Weeds) ▪ Wurdskrieme (Experimedia)
0:07:24 AGF & Craig Amrstrong ▪ I Opened My Eyes ▪ Orlando (AGF Producktion)
0:10:16 Moritz von Oswald Trio ▪ Horizontal Structure 1 ▪ Horizontal Structure (Honest Jon's)
0:15:08 David Sylvian ▪ Thermal ▪ Sleepwalkers (Samadhisound)
0:17:52 Arp ▪ Alfa (Dusted) ▪ The Soft Wave (Smalltown Supersound)
0:22:32 d'Eon ▪ Sundiata ▪ Palinopsia (Hippos In Tanks)
0:25:24 Bill Wells & Stefan Schneider ▪ Pntps 88 ▪ Pianotapes (Karaoke Kalk)
0:28:56 Nils Frahm ▪ Dauw (Piano Adaptation) ▪ Machinefabriek and Nils Frahm perform Dauw (Dekorder)
0:31:00 Portico Quartet ▪ November ▪ Black & White Sessions (Real World)
0:33:11 Hauschka ▪ Cube ▪ Salon Des Amateurs (Fat Cat)
0:35:05 Julianna Barwick ▪ Flown ▪ The Magic Place (Asthmatic Kitty)
0:38:33 David Lang perf. by Theatre of Voices ▪ We Sit and Cry ▪ The Little Match Girl Passion (Harmonia Mundi)
0:41:34 AGF ▪ Sooth (2010 Hum Mix) ▪ Filter (AGF Producktion)
0:43:31 James Blake ▪ Lindesfarne I ▪ s/t (Atlas)
0:45:32 Ilya Wazuhiru ▪ Velimir's Sea ▪ Origami Sound
0:48:24 Sanso Xtro ▪ Fountain Fountain ▪ Fountain Fountain Joyous Mountain (Digitalis)
0:50:51 Molly Berg/Olivia Block/Steve Roden/Stephen Vitiello ▪ Moss ▪ s/t (12K)
0:54:50 Steinbrüchel ▪ D ▪ A\B\C\D (BineMusic)
0:59:11 Sever ▪ Petal ▪ s/t EP (unreleased)
1:00:53 Bill Wells & Stefan Schneider ▪ Pntps 112 ▪ Pianotapes (Karaoke Kalk)
1:03:18 Peter Broderick ▪ With a Key ▪ How They Are (Bella Union)
[ S T R E A M ] | [ D O W N L O A D ] | [ P O D C A S T ] | [ i T U N E S ]