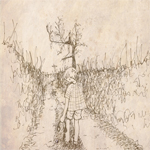 Looking back at the last few years of evolution in ambient and modern classical compositions, a few artists stand out. Besides the obvious masters of the genre, like Max Richter, Jóhann Jóhannsson, Murcof, Hauschka and Valgeir Sigurðsson (and many others), we've seen a few new names reach the heights of our rotations. In 2007 we were smitten with Rafael Anton Irisarri and Ólafur Arnalds. In 2008, we added Peter Broderick, Jacaszek and Nils Frahm to our lists. Last year, Danny Norbury and Hildur Guðnadóttir stepped into the limelight. As this year winds down to an end, and without further ado, I'd like to publicly proclaim that Clem Leek is the next big name to watch out for…
Gorgeous sonic soundscapes swell to unreachable heights and completely absorb every frequency within the dead space of the atmosphere. Echoes of familiar daily noises leak through the headphones, either on their way out, or on their way in, mixing with field recordings and dense atmospheres of the record. Piano chords and stringed instruments cut through the textures to implant their melancholia deep in your mind.
Holly Lane is a brooding and mysterious listen from start to finish, showing this talented young artist's wide production palette. It is awash with mysterious drone passages, echoes of ghostly instrument accents, glimpses of forgotten radio broadcasts, quiet, unobtrusive percussive sounds all underpinned by a subtle cavernous celestial chorus which really cements this all around solid album debut.
Clem Leek is a British composer from Kent in Southern England. He is also the man behind the newly formed Schedios label, that has graced us with releases from above mentioned Peter Broderick, as well as Anna Rose Carter, and hopefully many more to come. His past catalog includes a self-released Snow Tales (read our review) [this EP is also available as a free download via Experimedia], Through The Annular (Schedios, 2010), and a collaboration with Jannick Schou on Pimlico (Dead Pilot, 2010).
Holly Lane is Clem Leek's debut full length album, released on hibernate, a West Yorkshire label that is quickly establishing itself within the circle of ambient and electroacoustic connoisseurs. Kicking off its birth with Ian Hawgood's Wolfskin (2009), hibernate began releasing limited edition CD-Rs, drawing from a pool of such talented musicians as Chihei Hatakeyama, Haruki, Ryonkt, Field Rotation and many others.
I highly recommend you pick up this album, as it will surely end up on many Best Of lists in just a few weeks from now! You'll get tremendous replay value, and even more – a score to inner peace.
Make sure to read our Two and a Half Questions with Clem Leek.
Also, check out Clem Leek's Sound Postcard!
clemleek.bandcamp.com | myspace.com/clemleekofficial
hibernate-recs.co.uk