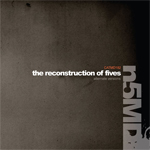 Today we are featuring a track off of n5MD 10th anniversary compilation, The Reconstruction of Fives. This special release features tracks from the label's catalog covered by a specially selected group of artists, including Nadja, Architect, Ben Lukas Boysen (Hecq), Dalot, Jasper TX, Rafael Anton Irisarri, Boy Is Fiction, Miwon, Bersarin Quartett, and others! On this Track of the Week entry, we feature a worriedaboutsatan cover of Plastik Joy, with violin by Sophie Green and vocals by Tom Morris from Her Name is Calla.
Be sure to pick up this release from n5MD's mailorder. I will also highly recommend worriedaboutsatan's last year's release, Arrivals (Giseh, 2009), which was selected on Headphone Commute's Best of 2009 : Music For Crawling Through Abandoned Cities. While you're prowling around Sound Cloud, check out worriedaboutsatan's remix of  Heart Monitor: (Dalot Remix) and (Error Operator Remix). Also, the group has put up the entire Arrivals as well as the latest self-released Heart Monitor up for streaming on Sound Cloud!
And one last thing, check out Headphone Commute's review of Her Name Is Calla's The Quiet Lamb (Denovali, 2010).
Happy Thanksgiving to all our US readers and listeners!!!
– over and out –