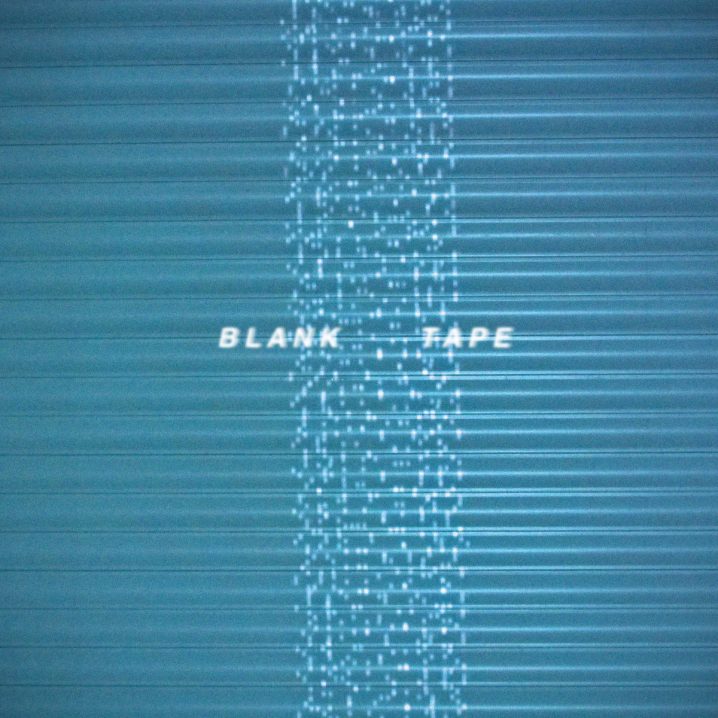 The Manchester-based electronic band, worriedaboutsatan, is made up of Gavin Miller and Tom Ragsdale, and Blank Tape is already their third full-length out on their very own This Is It Forever imprint (the duo also record under the project named Ghosting Season). The music is lush and sublime, a healthy blend of classically melodic IDM, indie pop, and voluptuous atmospheres so thick you can practically wade through them. After the vibrant tease of opening cut "A Way Out," "The Violent Sequence" is carried by a steady 4-4 muted kick and persistent arpeggios and syncopated stabs. It's a nice way to kick off the proceedings, but it is with "The Tower and the Steward" that Blank Tape really gets going. Its deep bass synth is the perfect counterpoint to its swooning, sweeping wall of strings, pads, and brass, capturing the same big atmosphere of a contemporary act like Bersarin Quartett, Murcof, or Apparat. Vincent Cavanagh's vocals even sounds a bit like Sascha Ring or Thom Yorke, another reason to draw the Moderat comparisons. Face+Heel contributes airy, female vocals to "Lament" while stereo delays skitter in the periphery. Those are the only two cuts that feature vocals at all, but they are crucial to Blank Tape's success, positioned close together with an instrumental between them in the front-center of the playlist. And it was smart to include "From a Dead Man… Part 2" at the end of the album (though it brings up the question: where is part 1?), whose synth murmurs at its beginning percolate into rolling arps over a steady beat. It feels like a bookend to "The Violent Sequence" toward the front of the album, and there is a keen sense of balance, harmony, and unity between the album's ten tracks. Whether its cuts are more atmospheric, propulsive, instrumental, or vocal, Blank Tape is a great success from start to finish.
Anthony Child
Electronic Recordings From Maui Jungle Vol. 2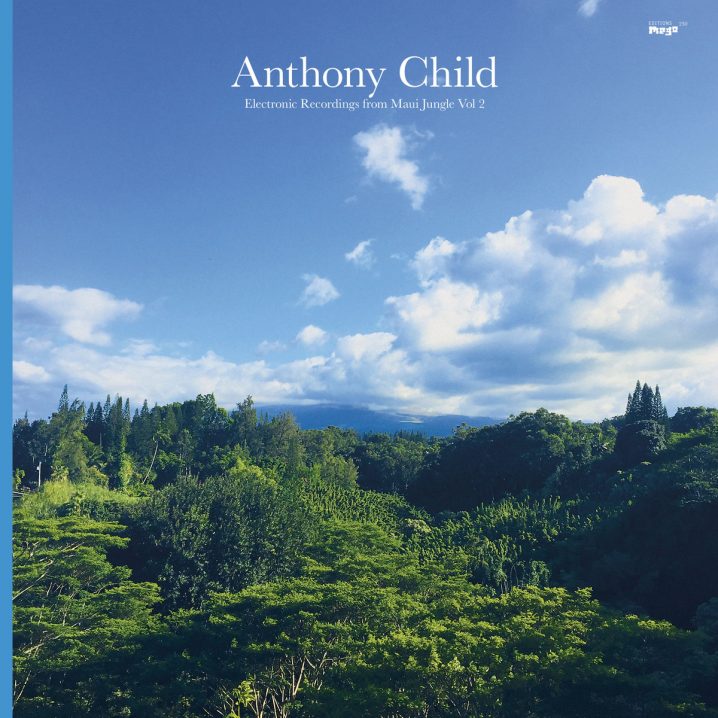 Anthony Child is best known for his now legendary repertoire as Surgeon, having released pummeling techno since the advent of early 90s Tresor. While his output under the moniker has afforded him some generous latitude, particularly in releasing on his own imprints Downwards, Counterbalance, and more, he's now released two volumes of beatless synth music under his proper name. This second volume is comprised largely of languid, undulating synth patterns and effects often stripped back to just a few layers. In this sense I consider it a healthy complement to his latest as Surgeon, wherein modular synth patterns layer to create visceral, tough techno; in this case, however, the music is more pastoral and reflective, recalling similar terrain explored by M. Geddes Gengras on his Collected Works albums over the last few years, to name just one comparison. While these collections are curve-balls for Child, they feel less singular and distinct than his most recent Surgeon output. They plug into the contemporary synthesis zeitgeist in such a way that they could sit comfortably next to anything on Spectrum Spools (Donato Dozzy and Steve Hauschildt come to mind in particular). Thank heavens, though, that music is meant to be heard and felt rather than merely compared and analyzed! Because for all of these likenesses and comparisons, the collection is undoubtedly solid. It feels stark and pensive, Child's inward expression of his lush Maui inspiration. Fans more plugged into Surgeon's harder edge may or may not find the groove in these more subtle and subdued productions, but I find they offer just the right amount of peace and beauty in contrast. Recommended.
WaSm
Een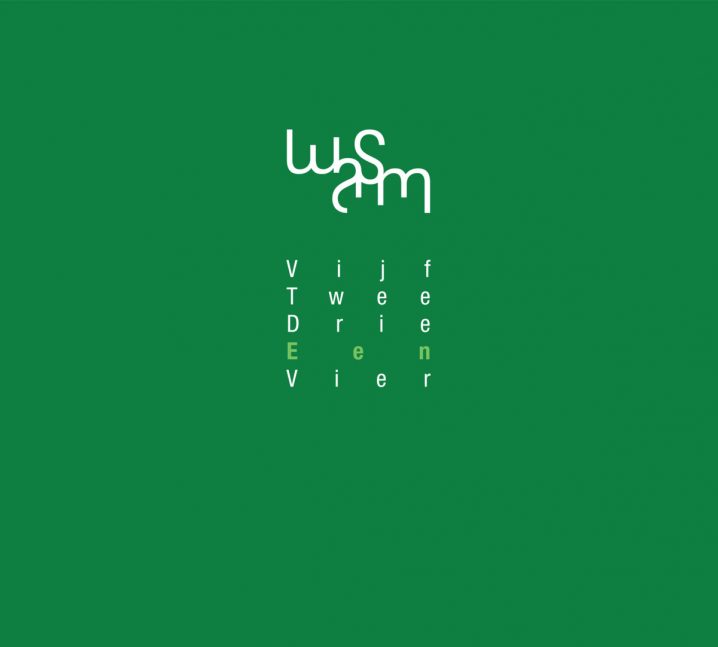 Een is the first recorded document of an ongoing project between Dutch friends and collaborators Frans de Waard and Jos Smolders. For decades, each has been digging deep into experimental sound art, far removed from the constraints of genre or traditional musicality and instead exploring the granular, gritty, abrasive, and minute. The five parts of Een follow suit, restless and fidgety in their enthusiasm for exploring the sonic terrain. Recordings of environments, contact mics and found sounds and objects are assembled and manipulated to create interesting and occasionally maddening results. The tracks appear numbered out of order, starting with "Vijf," a mildly unsettling blend of acoustic gonging, synth drones, distant crashes, and cut-up vocal recordings (which sound suspiciously like William S. Burroughs). Samples weave from channel to channel, often enhancing how disorienting the duo's productions are. "Twee" dives deeper into hazy field recordings but is periodically interrupted by an abrasive zig-zag of synthesized noise, as if to remind listeners that getting comfortable in WaSm's landscape is not an option. But I prefer the more prolonged patience of "Drie" and "Een," two cuts whose trajectory feels less deliberately beguiling, more gradual. Closer "Vier" is the longest of the set, and it feels like an amalgamation of what's come before: hazy, accelerating drones of harsh noise, droning industrial ambience, and deft mixing board gymnastics, often shifting position of sounds as they weave in and out of one another. The album's seriousness is tempered by its playful nerve, occasionally tilting into oddly abstract humor, often unwilling to remain still for very long and willing to throw a curve-ball into the mix at any given time to keep things interesting. Recommended for fans of The Hafler Trio, Nurse With Wound, Illusion of Safety, or newer collage artists such as The Focus Group, to name just a few.
Jesse Osborne-Lanthier
Unalloyed, Unlicensed, All Night!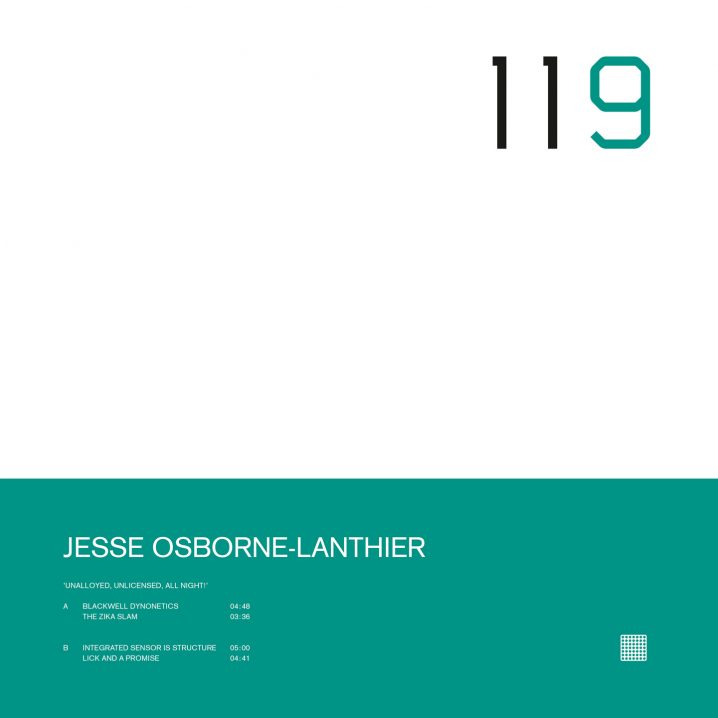 Raster-Noton's unun series is named after the periodic table's elements from 111-119, wherein each new element is named with Latin numbering (unun = one one = eleven). Montreal/Berlin-based producer Jesse Osborne-Lanthier's entry is his first for Raster-Noton and also the last in the series (119). The music feels like the convergence of all things Raster-Noton with a streetwise edge. It has as much in common with the cyclical patterns of Mark Fell as it does with the frantic rhythm kit of footwork, starting with the skittery energy of "Blackwell Dynonetics," built around a stabby chord pattern that bends up and down in pitch over time, awash in reverb as 808 claps sound off. "The Zika Slam" may have an insect-like buzz about it, but it also has the deep low-end hum of UK bass music, like a club hosted within the beam of a laser. "Integrated Sensor Is Structure" feels like warring drum machines, firing off snares and kicks at each other in overlapping patterns that gradually shift into syncopated regularity. It has the obtuseness that often comes with many of Raster-Noton's releases, but it also has some of the cheeky sideways swagger that one might find on Autechre's more recent output, several layers removed from the street but still enough of a groove to trace it back, but he saved the best for last. "Lick And A Promise" makes a lot of noise with its ascending, bending big hoover synth and banging bulbous kick, hammering away for the duration until it decays and spins out. This one feels like it has a sense of humor about it, a different vibe from much of the Raster-Noton cannon. I hardly want or expect the label to indulge this sweet spot very often, but when the music does hit that elusive spot just right, it's good. Fans of adventurous and sideways electronic music will likely find much to love on this curious leftfield entry from Osborne-Lanthier.