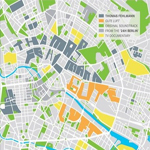 Thomas Fehlmann has long been a towering figure in electronic music. He was producer on The Orb's Adventures Beyond the Ultraworld and executive producer for Sun Electric. He and Palais Schaumburg bandmate Moritz von Oswald (of Basic Channel fame) famously collaborated with Juan Atkins in the early nineties as 3MB. More recently he's been producing solo work for Plug Research and Kompakt. Gute Luft is Fehlmann's original soundtrack from "24H BERLIN" – a 24 hour television event, billed as the world's longest documentary. Eighty camera teams filmed Berliners over the course of a day. Fehlmann provided a portion of the score, which he reworked here into album format. The title translates to "Good Air".
My favorite tracks are the most rhythmic. Some of the more cinematic pieces strike me as too museum-y. To that end, I enjoy the deep bass and cascading textures of "Alles, Immer". In fact, it reminds me of Moritz von Oswald Trio. "Wasser im Fluss" falls into a nice, breezy groove. Crisp chord changes contrast reverberating string notes. "Schwerelos" is similarly lively, with bouncy bass and the occasional airy harp glissando.
On "Speeding", Fehlmann's music takes on a darker tone with muted, tapped percussion and long, droning chords. "In the Wind II" has a bassline that is almost electro, while flutes play what seem like traces of "Londonderry Air". It's better than my description would have you believe. "Soft Park" is funkier, but woefully short. Dubby chords splatter over deep bass and percussion snaps. "Permanent Touch", "Von Oben," and "Cityscape" are all upbeat, but they sink into the background for me. For a soundtrack, that's probably not a bad thing.
"Fluss im Wasser", on the other hand, is one of my favorite tracks on the album. The bass is lush and dynamic. A guitar slides, beats pound, and the sun shines. "Berliner Luftikus" follows with a deep dub techno vibe, the sounds of falling rain, and a pretty four-note pattern played on bells. "Darkspark" is an immediate attention-grabber, with an orchestral palette of strings and horns. Two-note chords pulse and change. I wish Fehlmann had extended this over a full ten minutes or so. "Im Überblick" is another tune that is over way too soon. It morphs from dub techno to bass-heavy minimalism to ambiance. The album ends with panning white noise and decaying piano tones on "Scheiben".
Gute Luft is released by the Köln (Germany) based Kompakt, run and operated to Wolfgang Voigt. The label's recent output includes the 11th installment in the Total series featuring an excellent roster of artists, such as DJ Koze, The Field, Gus Gus, and of course Voigt and Fehlmann. There's also a 12″ Gute Luft Remixe edition, with three tracks reworked by Soulphiction (Michel Baumann) and Move D.
– – – – – – – – – – – – – – – – – – – – – – – – – – – – – – – – – – – – – – – – – – – – – – – – – –
Original review posted by Jacob Arnold on Gridface.
Republished with permission of the author.
myspace.com/thomasfehlmann | flowing.de
myspace.com/kompakt | kompakt.fm
24hberlin.de