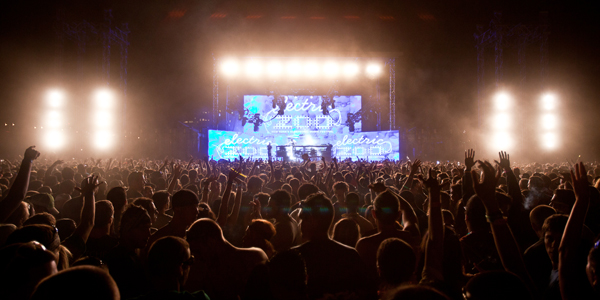 On Labor Day weekend (Sept 4th & 5th), over 50,000 fans gathered at New York City's Randall's Island Park (the event was sold out both days at 25,000 person capacity) to celebrate some of the world's top dance music producers and DJs. Although parking was advertised as limited, I met many people coming over from Albany, Maryland, Philadelphia, Boston, Washington DC, and of course all of the corners of New York, New Jersey and Connecticut. Besides the ones I met, people also traveled from across the country (Los Angeles, New Mexico, Colorado) and the world (South Africa, Sweden, Peru, and others)!
The two-day open-air dance party started early, with the opening sets shaking up the insects at 11am, providing ample opportunity for the visitors to enjoy the beautiful weather, picnic, sunbathe and just chillax. The abundance of great food and drinks improved the atmosphere by allowing the dancers to cool off and energize with offerings from VitaminWater, Red Bull, and Coke, or to warm up with artisan teas from the mobile truck vendors. My favorite selections included the on-site wood oven baked pizza from PizzaMoto, hand made pretzels from Sigmund Pretzelshop, and fresh draft beer from Molson Coors (I only drank Blue Moon). Plenty of vegan and organic choices allowed the discerning palettes to enjoy the culinary options of New York.
With over sixty artists playing at four stages, it was tough to absorb it all at once. One had to continuously roam the perimeters of the tents, hoping to squeeze in deeper into the crowd.  This is only the second year for Made Event's attempt at curating one of the largest electronic music festivals on the East Coast. The production company has been throwing parties since 2004, featuring artists such as Paul van Dyk, John Digweed, Danny Tenaglia and alike. The principals behind Made Event, Mike Bindra and Laura De Palma, draw their inspiration and vision from the European outdoor festivals:
"We're very excited to be bringing our version to America – Electric Zoo, New York's first electronic music festival. Our intention is to showcase the top artists in each of the sub-genres, there will be something for everyone – a literal 'zoo' of electronic music."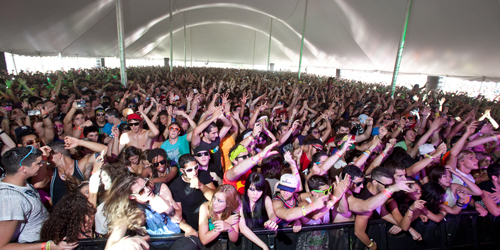 Crowd in the tent. Photography by Bennett Sell-Kline for ElectricZooFestival.com
Three covered tents of tightly packed bodies hosted some of the most outstanding global talent, with the main stage propelling its outdoor sound, challenging some of the loudest systems I've heard to date. The sound quality was tight, colorful, and not overly compressed – kudos to the engineers – every frequency penetrated my body, at times vibrating the clothing where the ear drum could not. I sat on the blanket in the middle of the field, and the music was still loud enough for me to get up and dance with the crowd. Well done.
The all-age crowd seemed to recognize and enjoy a lot of veteran names – apologies for my surprise here, but more than a few artists had their first record out two decades ago, and that's way before many of the dancers were born. Of course there was Darude's Sandstorm that sent waves of teenagers running towards the tent to jump along that unforgettable punch theme. When ATB played some of his new tracks mixed in with a few classic samples [the main melody from 9pm (Till I Come) kept resurfacing], I sat at the picnic tables, drinking my cold beer, swirling in the air thick with haze, smoke and skunk. Be sure to pick up André Tanneberger's latest single, Could You Believe and a mix album, Sunset Beach DJ Session, both released by Kontor in 2010.
The selections by the main stage artists and DJs had that Love Parade quality to them – epic melodies, vibrant anthems, and morning beats, with plenty of sun rays from beaches to skies. Ah… to be young and careless again, to roll around in the grass and forget about homework and exams… wait, what the hell… I might just do that! A few tunes brought back the memories, and I jumped around like a kid, unapologetic for being a fool among the candy ravers and bikini girls. I may have completely lost it when Major Lazer played All That She Wants by Ace of Base. Yeah… you read that right…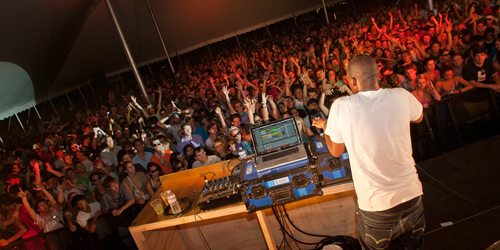 Flying Lotus. Photography by Scott Kowalchyk for ElectricZooFestival.com
The Red Bull Music Academy brought in some of the toughest talent from the UK and West Coast alike. Here, some of the nastiest dubstep was dropped in the hands of Martyn and Rusko. Sweaty bodies swayed with the beat, and the tent literally  breathed with hot waves of pheromones and ganja. Here, I was finally convinced, that dubstep has made it to US and is here to stay. The kids loved it, throwing their hands up in the air, screaming out the lyrics, and grinding away. "I love dubstep," the fans I interviewed yelled later. They cringed their noses and rolled their hips to demonstrate enthusiasm. "The dirtier, the better!" Yeah… I think I know what they mean! That tent was absolutely drunk with the bass by the time Flying Lotus came on, setting up the stage for Pretty Lights. Be sure to check out FlyLo's upcoming release, Pattern+Grid World, out on Warp on September 21st.
The absolute highlight of my first night was Richie Hawtin, who followed up Steve Bug with funky tech-house. His mixing had that razor-like precision, dropping out the beat for only 8 bars, to let me catch my breath, then slamming it back into the groove. Does anyone have the tracklist? Too bad that our feet stomped out all of the grass, and the dust filled up my lungs leaving me coughing for hours afterward. Meanwhile, at the main stage, Benny Benassi played an interesting remake of Satisfaction, mixing in tracks that sounded like Cajmere's Percolator and Speedy J's Pull Over. Mmm, that does sound delicious, doesn't it? Benassi's Spaceship single is currently out on Ultra and D:vision Records. I also enjoyed his last compilation mix, Toolroom Knights (Ultra, 2009).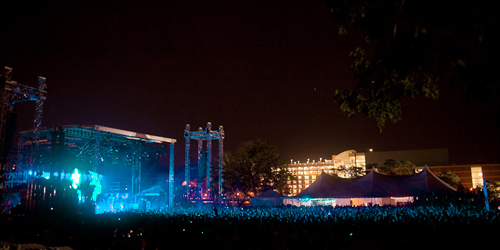 Chemical Brothers. Photography by Bennett Sell-Kline for ElectricZooFestival.com
I missed out on The Chemical Brothers hoping to leave the island earlier, and avoid the traffic of a thousand vehicles, but I've heard many good reviews the next day. Their 2010 return to the scene is marked with Further out on Virgin this past June. If you were there, please submit your feedback and stay tuned for Day Two review of Electric Zoo! I have a few more things to say!