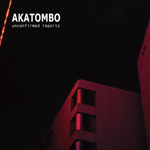 From the mysterious depths of Hiroshima, Japan, arrives an inconspicuous, yet meticulously packaged 10″ square packet. Inside is a hand-numbered elaborately printed envelope containing two photographic prints, two random newspaper clippings (I've got a photo of an Italian train station, and a shot of an Asian artisan), and a full length album from Akatombo, titled Unconfirmed Reports. But that's not all! There's also a bonus DVDr with three promotional films featuring music from the album. So why do I begin my review with a description of the packaging? Because the presentation and the appearance of the album plays a considerable role in its initial impact and the overall appeal. How serious are you about your music?
This is Paul Thomsen Kirk's sophomore full length release. His debut, Trace Elements, appeared on the London based Swim~ label, in 2003. With this very first catalog release, Kirk propels his very own Hand-Held Recordings, onto the underground electronic music scene. Your attention is grabbed from the very first track, "Friend For Hire", which has a dark, almost industrial, hollow rhythm, a la Pan Sonic and earlier Autechre. Aha! Do I have your attention now? Well, read on… Unconfirmed Reports is a dark, almost gloomy affair, at times sounding tormenting with its brooding guitars. But beneath the layers of thick pads, punctuated with carefully selected percussion, lies an audio/visual travelogue "as seen through the warts-and-all tinted-spectacles of" Paul Thomsen Kirk. More from the press release:
"From skimming the surface, to trawling the dank underbelly; the daily minutiae of life in a large Japanese city is duly presented in all its garish hues and faded glories. Accessing all areas, and dispelling numerous urban myths along the way, 'Unconfirmed Reports', allows you, the willfully willing participant, the perfect opportunity to immerse yourself completely in a thoroughly enticing, 360-degree, technicolour, sonic adventure."
And a few words about the videos, if I may. These are extraordinary short pieces, which already had numerous screenings at notable Independent Film Festivals around the globe. Along with the nine-track album, Unconfirmed Reports is an excellent addition to any follower of electronic and experimental music. Especially if you're in the mood for post-apocalyptic, urban alienation, and social exclusion themes. Usually, in this portion of my review, I list a few similar artists, but for the ex-pat Scotsman, Paul Thomsen Kirk, it's tough to pick the closest ones. And that's a good thing. Check out something new, for a change.
See also Two and a Half Questions with Akatombo